In the summer, when it gets hot, we practically live on salads. Yes, we, as in all of us! From the nearly five year old to the nearly fifty year old. How do I come up with things that please a range of tastes, are healthy, and are hearty enough to be the main course? I experiment. A lot. I use the freshest ingredients I can find. I omit the oil, and let the real flavors show through. I seek out bright colors and try to make the salad look as good as it will surely taste. I try to include a little something sweet for the young palates. I include lots of kid-friendly beans – like chickpeas and lentils – to move the salad from being a mere side attraction to the main show.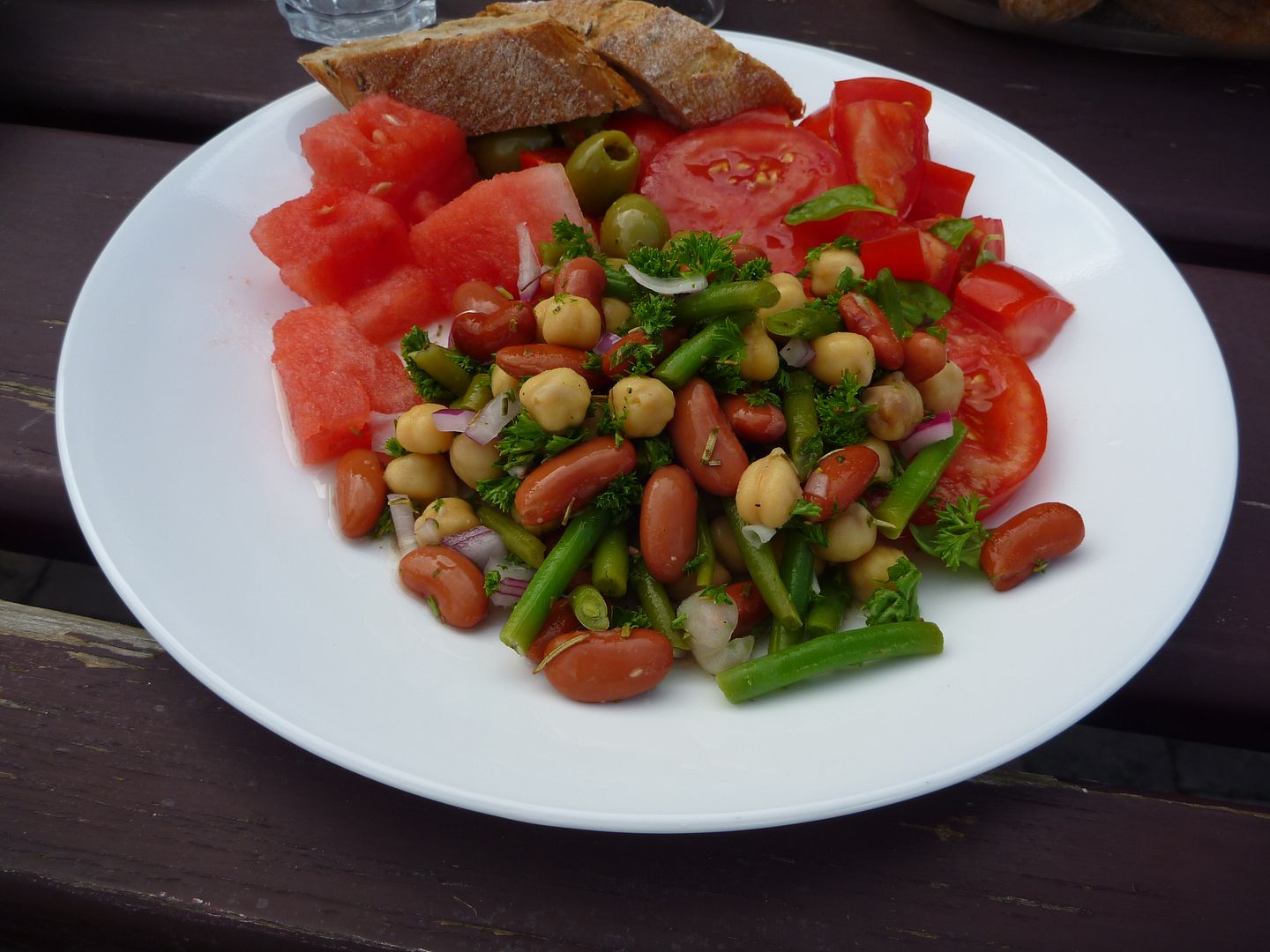 Salad doesn't have to mean a few cups of iceberg lettuce, an out of season tomato, and heavy dressing. It doesn't even have to have lettuce – although that is by far my favorite! Nor does it have to mean cups of mayonnaise or oil. Here's my take on a familiar classic – three bean salad.
Three Bean Salad
Ingredients
2 cups of frozen green beans
1 can of chickpeas, drained and rinsed
1 can of kidney beans, drained and rinsed
1 small red onion, chopped
1/2 cup fresh parsley, chopped
1 teaspoon rosemary
1/3 cup apple cider vinegar
1/3 cup sugar of choice (sugar, splenda, honey, etc)
salt and pepper to taste
Blanch the green beans, then rinse under cold water. I cut mine at this point to make them easier for little fork-wielders, but as you like. Place green beans, chick peas, and kidney beans in a medium-sized bowl. Add red onion, parsley, and rosemary.
Dress with apple cider vinegar, your sugar option, and salt and pepper as needed. Mix well and refrigerate for an hour or so before eating.
What's missing from this recipe that's most likely in your three bean recipe? The oil. Try it. Trust me. You just don't need it.
This is just one of many many salads that will be gracing our table this summer. What are some of your summer salad favorites? Do you need help healthifying it? Hit me up in the comments and I'll see what I can do for you!
Category: EAT IT, Main Course, Side Dish, The Sisterhood