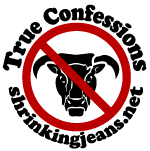 Well, well… Is it really this time again, ALREADY??
Overall, it hasn't been a bad week…
I have been tracking my foods using SparkPeople. I have overindulged with cookies (the in-laws sent them home with the kids Sunday – eek!), but I have been counting them and making adjustments.
I have been tracking my exercise with dailymile. Oops. Wait. I haven't exercised. Shit. BUT, I did go to the gym this morning.
I bought veggies and Pirate's Booty (for snacking) this weekend. Aaargh!
I took the kids out for dinner for Kane's birthday last night and even though I really wanted french fries, I ordered off the Weight Watchers menu and got steamed veggies. They were good. Shhhh… don't tell anyone.
Until next time, friends…
Post Footer automatically generated by Add Post Footer Plugin for wordpress.