Okay, first let me get my weigh-in out of the way, since I didn't do it on Wednesday. Well, I weighed in, but wasn't happy, so I didn't share.
Last week: 137.2 (woooohoooooo)
This week: 139.6 (boooooooooo. hisssssssss)
Being out of town, and not really caring about how much I was eating did it to me. No excuses. I own it.
So back to the Monday Project….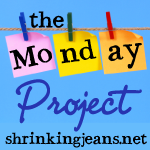 Sad to say I didn't get run over by a squirrel, or run in freezing cold rain and snow (although it did snow in Texas this week!), but I did add 14 miles to my bank this week. FOURTEEN MILES. That's a lot of miles. Running miles. I also hit the 100 mile mark since I've been running in October of last year. That felt really good.
Each and every run I have adds to the bank, and seeing the miles add up adds to my confidence. I feel like, "wow, I'm actually going to run a 1/2 marathon in a little over 3 months and not suck at it! I might actually be prepared and feel good!" That is such a victory for me.
My son is so excited about the 1/2 marathon. We talk about it almost daily, and he peppers me with questions. He knows that it's 13.1 miles, and he asked me last night when I was going to run a full marathon because "it's 26.2 miles, and that would be so cool." Kid loves math and pushing his mommy to do more. He also asked me if people ran more than 26.2 miles and I explained that there are ultra-runners, but that I didn't think I really had an interest in that. We ended the conversation discussing the day when we would run a marathon together. The two of us, training and running and doing it together. I'm putting that in my bank, because all of my hard work isn't just for me, it's for them, too.