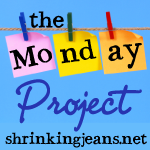 I had an idea about a weight-loss challenge that started with torturing  digging into the mind first and it turned into Rethink Your Shrink. I thought it would be great for everyone to dig down deep inside and find out why things were the way they were so that we could change them. I had done it a little bit before, myself, but never like this.
Little did I know that rethinking my shrinking was going to bring up all sorts of little unmentioned demons in my own mind and skeletons among the fat clothes in my closet.
 Turns out I aired my own dirty laundry in the form of a giant self-esteem problem. And in the end, this challenge helped me finally accept who I am for the body that it is. After all these years of comparing my body and its shape and pear-like tendencies to everyone else's body including my skinnyminny teenage-boy-body mom and skinnyminny teenage-boy-body sister (both NOT ME), I finally accept the way my body does things and responds to things and I have become one with it.
My body likes to stay in the same place if I don't shake things up. It will gain weight at the drop of a hat. It requires exercise and healthy eating or its metabolism slows way down and in two seconds I can go from size 6 to size 12. It needs sleep and a stress outlet and lots of water. It can be a great big pain in the ass. But it can do things I never thought possible. So basically it's like my pain in the ass cat who does whatever the hell he wants all day and makes me want to scream but then curls up next to me at the end of the day and purrs and sits in my lap and loves me. How can you hate that?
I learned that I love having a support system like the one at the Sisterhood. The Sisterhood support network has gone to a whole different level than anything I've seen. I think about all of you whenever I don't want to go work out or when I'm working out and I'm just going through the motions. I think about all of you who inspire me to go faster and to just find the time. I am inspired when I see your workouts trickle down on Twitter and Daily Mile. I am inspired when I see you running 10 minute miles pushing a jogging stroller (Christy.) I am inspired when I see you jogging in the rain or the 30 degree weather. I am inspired when you cheer me on from the virtual sidelines. I am inspired when I see you push further and try things you've never tried before. When I watch you do these wonderful things and make these wonderful self-discoveries, it makes me believe that I can do it too. And that I don't have to be afraid.
In this challenge, I learned to be brave. I purged my closet finally of my fat clothes. I got my wedding band re-sized down. I learned to believe in myself that I have indeed made a lifestyle change that will stick. I learned that most of my fears are based on things that will never ever happen.
I learned not to beat myself up so much.
I learned not to talk smack to or about myself unless I'm running on the treadmill yelling at myself like I have a built in Jillian and I need to hear that inner crack down. But I have learned to stop the self-criticism and to try to accept a compliment.
I'm still working on the confidence part, especially when I am training with people who live for triathlons, but I'll get there. Rome wasn't built in a day, right? At least I'm doing them. Which is a hell of a lot farther than I'd have thought I'd be when I was pushing a size 18 in brides maid's tent gown.
But the best part is seeing my calendar and everyone else's calendar full of events and knowing that we are all pushing on full-steam-ahead and we're all on this crazy ride together and I love it! 2010 really is our year and I believe it with all my heart.