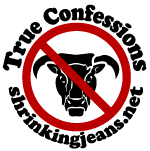 This is the time of the week where we confess our missteps and good intentions gone awry. Did you survive Superbowl Sunday (*sniff*) without going overboard or did you give into the salty, creamy goodnesses that often accompany the event? Go now, GO! Confess.
True Confessions of Melissa
1. We spent the weekend on location with my husband at this rig. Not only does this mean tight, cramped quarters… it means in the middle of nowhere, slim food choices, and limited cookware.
2. Chips and dip. Not the healthy-inspired, made-by-me kind either. The full-out horrible processed cheese dips bought at the grocery store. Which I dipped my chips in as I was hoarfing them down.
3. Exercise is still going strong. I did 11.2 miles in the past week! Woot!
4. Saturday, I didn't complete my "long" run for my VTNT training. I was horribly crunched for time, but I did get one of the 3 miles done.
5. I consumed both pop AND coffee this past weekend. Crap. Luckily, my sweet order from Teavana.com was awaiting me on my doorstep when I got home last night, and I am now enjoying a nice cup of Jasmine Dragon Phoenix Pearls Green Tea. LOVE.
Your turn!!
Tags: Fitness, jasmine dragon phoenix pearls green tea, Melissa, running, superbowl, Team In Training, teavana.com, treadmill, True Confessions, vacation, VTNT, walking
Category: Melissa, True Confessions