March 19, 2010 by thea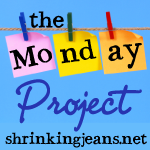 Technically, I've only been doing this for a few days because I didn't read the original post until late Monday night and then it's only half way through the day Friday and I'm staring the weekend in the face and stuff but….(gasp)
I gave up sweets/desserts/candy for Mini Lent.
I am happy to report that I have not had any kind of "treat" since Monday.
That includes the 3 Thin Mints that are left and some Mint Chocolate Chip ice cream in the freezer.
And you know what?  I'm going to keep going.  I'm going to see how long I can go without having any kind of dessert treat at night.
I miss it, but I'm not dying so that's a good thing.  I just need to break the dessert-every-night-of-the-stinkin'-week habit.
Cold turkey is the way to go!