My life has been a whirlwind lately! I kind of love it! Today, it's back to the grind. Time to play catch-up. I also stepped on the scale this morning -eeeeek- and am so excited for Wednesday's weigh-in! GO WEIGHT LOSS WARRIORS! Woot!
(re-posting from Whooo's That Girl)
Where, oh where, have I been?
We drove through South Dakota and Wyoming to get home to Colorado.
Refreshing.
I flew to Chicago, then on to Baltimore for Fitbloggin'.
I hung out with fun, amazing people.
Less than 48 hours later, I flew back home.
I'm tired.
Stay tuned!
Also? Do you want to win $400?
A Gruve? (There's two of them!)
A Pioneer Woman Cooks book autographed by Ree? (We have three!)
Chances of winning are EXCELLENT! Click here.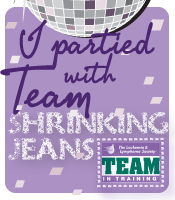 Post Footer automatically generated by Add Post Footer Plugin for wordpress.