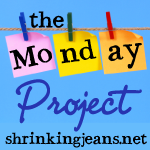 Every time I see the slogan "Knowledge is Power" it reminds me of that cartoon with all those people, was it on after-school specials? Or Saturday mornings back when there were Saturday morning cartoons? I don't remember. Boy I miss Saturday morning cartoons.
Anyway, this week, we're going to fill our brains with knowledge. Because knowledge is power! Right? So is there a health book you've been wanting to read? Is there a magazine you subscribe to that you haven't caught up on? Motivational book? Something health, mind, body, diet, fitness-related?
This is your week. In fact, this is your week + next week. Because this is the first two-week Monday project EVER. You get a day or two to get your hands on something to read. Then a week and a half to read it. It's going to be like a giant book-club, only we're reading different books (although I know a few of us who are reading David Grotto's book, "101 Foods That Could Save Your Life.") And then, we'll come back on Friday , April 9, and talk about what we read, why we chose it, and what we learned from it. So we can give each other some great ideas, share some stories and share some really great books together! I am always on the prowl for a great new book, so I am sure that this will be helpful. In fact, we could do a giant book-swap at the end of it, if this project is a big success! (Thanks to Heather – for this great Monday Project idea!!)
So what book are you choosing??? Got any in mind?? I'll have a link-up on Friday to discuss which book we're reading. And Friday, April 9th, post about what you've read and link it up so we can have a nice virtual roundtable discussion!!
Have a great week!
Category: Uncategorized