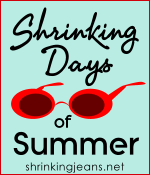 It's week 1 and I've put this post off long enough….
I am down from last week, so that's good! But I'm still not where I want to be. No one's fault but my own, though!
I am so glad we have a new challenge starting. SO glad.
Last week: 140.8
Challenge Start Weight: 140.4
I started out last week counting calories and did great until Friday hit. It was my husband's birthday, and we went out to eat several times. There were also several run-ins with cake and whatnot. It wasn't pretty, but I pulled through and still had a small loss. It's the little victories that get us through this journey, right?
I am SO excited about Team Shrinking Jeans' 1/2 marathon! We will be in San Diego in a little over a week!! We just got off of our final conference call with our LLS contact and Coach Joe, the Pre-Race Prep call, and let me tell you that my excitement has grown exponentially this evening. I seriously cannot wait to meet (and see again) all the amazing people on our team. And the race? Don't even get me started! SQUEAL!!!
Do you realize Team Shrinking Jeans has raised almost $42,000 for blood cancer research? And all of the VTNT people together have raised over $100,000? That is truly amazing.
Okay, I'm all over the place with this post, so I'm going to shut it down with a couple of final words:
GO TEAM!!!!!