July 27, 2010 By Christy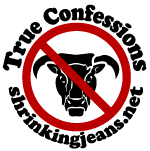 It's True Confessions Tuesday!! Woot! This week I'm happy to report that most of my confessions are positive
I have been faithfully tracking my Weight Watchers POINTS online.
I have been more active in the form of running, yard work, and shredding.
I have been kind to myself.
I have planned meals, and actually stuck with the plan!
I did have a chicken fried steak on Sunday, but I ordered the kids' size meal.
We ordered nachos as an appetizer on Sunday, and I only had 1!
We also ordered a family dessert on Sunday (amazing brownie), and I had 2 small bites.
I feel like I'm regaining control of myself. Like I can enjoy those treats, but not go overboard with them. My hope is that I can continue on this path.