This is a special announcement, you will want to click into here and read all about it, trust me!
We told you we were cookin' up something great all up in here at the Sisterhood, right? Well here it is!
Tuesday night, we will have a special guest hostess joining us in our Tworkout (Twitter+workout="Tworkout") and it's so great we're making it a big Tworkout Party! (This is so exciting I can hardly contain myself.)
It is one of my weight-loss and fitnes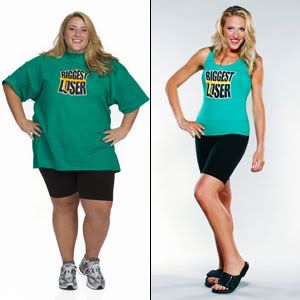 s and soon to be Ironwoman idols, Tara Costa!
She was a finalist in the Biggest Loser Season 7 and did things like pull cars and win almost every challenge and lose oh, 155 pounds on campus. She's now turned her focus on staying fit at home and challenging herself through marathon and triathlon training. She continues to blog about her journey which has definitely reached new heights at TaraCosta.com.
I got a chance to talk to her over the phone a couple weeks ago about her experience on the ranch. She's made of all sorts of awesome.
Well, literally, right at this moment, Tara is drawing up a workout for Tuesday night that will be guaranteed to make the thighs burn! You remember who her mentor is, right? Jillian Michaels? You might have heard of her. Anyway, you KNOW it's gonna be good!
Get ready to burn baby, burn! Can you think of a better way to lead into Wednesday's Weigh-in? Grab your team, people! Let's get to work!!
The party will start a little early this week at 8:30 p.m. ET/7:30 CT where we will get our chit-chat on and the giveaways going.
Oh, wait. I didn't mention the giveaways yet???
Our Tworkout this week is brought to you by Subway! We'll be giving away lots of freshness, so you'll wanna get here at 8:30 ET and stick around through our special Tworkout with Tara event where she will join us at 9pm ET and make us sweat. We'll have giveaways throughout our hour of Tworkout.
In sum:
Preparty starts at: 8:30 pm ET/7:30 pm CT Follow: @shrinkingjeans, @Tara_Costa hashtag: #tworkout Tworkout begins officially: 9pm ET/8pm CT with TARA!
Giveaways by Subway THE WHOLE TIME. So you'll really wanna be here the whole time.
Post the link for this post into your Team Groups and light a fire under everyone!!! The team who works out together loses together! Comment below with your Twitter name to RSVP!!
Got it?
(Are you still confused on what the heck a Tworkout is anyway? Here's the deal: All our Tweets will end with #tworkout, so that if you're on Twitter and you go look on the Twitter sidebar for the search box and type in the word: #tworkout, everyone who is talking about our #tworkout will pop up in one place. Be sure to follow @shrinkingjeans and @Tara_Costa too so you can see what we're all talking about! Confusing enough? Email us at [email protected] if you don't understand, we'll be happy to help!)
Grab your teammates!!! Let's party and Tworkout with Tara!
Follow us on Twitter
Subscribe to receive Updates
Want to discuss this article? Meet us at the Hood!