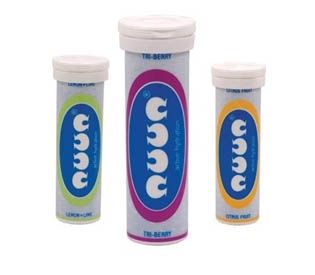 I have to be honest here. I don't like to drink water. It is a chore. And it's not as if I'm a big soda drinker either. I drink a cup or five of coffee in the morning, then have to force myself (usually unsuccessfully) to drink water the rest of the day.
All in all, I would guess that I'm running around pretty dehydrated most of the time.
Whoops.
I became hyper aware of my water intake when I was training for the half marathon I ran in June. Obsessed, really. And not only did I have to think about water intake, I had to think about HYDRATION. Hydration is not simply about drinking an adequate amount of water;  it is also dependent on keeping the right amount of electrolytes in your system.
In a word, complicated.
During one of our many Team in Training conference calls, Coach Joe mentioned a product called nuun for hydration. I had remembered seeing it in the grocery store and decided to pick up a tube. I was a little leery at first, worried it would taste like a sports drink, which are generally too syrupy sweet for me, especially when I'm working out or on a run.
I popped open the little (waterproof!) tube to find 12 quarter sized tablets, and dropped one in to my bottle of plain water. It started fizzing a little, and within two minutes had dissolved completely leaving me with a light orange, flat drink. So far, so good. The last thing I want to drink while active is something carbonated [BURP!].
The taste? Perfect. Very light, not too sweet. AND NOT LIKE WATER (for me, this is good).
nuun comes in several flavors. I have tried tri-berry, citrus fruit and lemon-lime…I would have to say citrus fruit is my favorite, though they are all very good.  The tablets are incredibly convenient and portable. You can easily slide a tube of nuun into your running belt, your gym bag, your desk at work or the center console of your car. One tube contains twelve tablets, or 24 servings; each serving is only THREE measly calories. And it is sugar free.
nuun is not designed for nutrition, it is for hydration, pure and simple. Then it's up to you as far as nutrition supplements (Gu, a banana, pretzels). I like having the option of simply hydrating, or adding in my OWN nutrition if and when I need it.
One last thing…did you know that if you add electrolytes and flavor to your water, you're likely to drink 90% more versus plain water? Which for me, well, that's about 90% more than I'd usually drink.
So basically, nuun is taking a permanent place in my purse, gym bag and pantry.
Would YOU like to try nuun?
Good news: I've got a gift pack containing three tubes of nuun (citrus fruit, tri-berry and lemon lime) to give away to one lucky reader!
Here's how to enter:
1) Go check out the nuun site, come back here and let us know what flavor sounds the best to you…and how many glasses of plain water you manage to put away per day!
2) Follow nuun on Twitter!
3) Tweet! And leave a link in the comments section.
All entries must be received by 11:59 pm PST on Friday, August 27, 2010.  Winner will be chosen via Random.org.
Good luck!
Disclosure:  I received nuun  for purposes of review. No monetary compensation was provided. Of course, as always, the opinions expressed are my own.
Follow us on Twitter
Subscribe to receive Updates
Want to discuss this article? Meet us at the Hood!