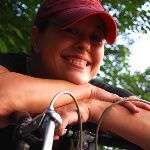 It's Tuesday! And we all know what that means! It's my day to give you the best thing about your week! That's right…it's Tworkout™ day! (I love Tuesdays. So much.) I know you're excited so I know I will see EVERYONE on Twitter at 8 p.m. Central! (If you want to follow along on TweetGrid, go here.) Oh, and there MAY even be a giveaway thrown in tonight!
Tonight's Tworkout:
1. 3 mins high knees (Seriously. Get those knees HIGH!).
2. Chair dips, as many as you can do.
3. Jump squats, 40.
4. Burpees, 10. (start out standing, bend down put your hands on the floor and jump your feet back to a push-up/plank position. Then you jump your feet back in and stand up) – Ya'll can thank Christy for that one!
5. Alternating lunges with bicep curls, 30.
6. Bicycle crunches, 50.
7. Stretch.
See you there!
Follow us on Twitter
Subscribe to receive Updates
Want to discuss this article? Meet us at the Hood!