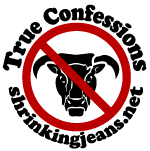 It's True Confessions Tuesday- the day where I lay it all out for all of you to read.  Here we go!
I am running my 2nd half marathon in 26 days- I am beyond excited!  My first half marathon, done with Team Shrinking Jeans, was done with a hip injury and while I was overjoyed to be doing it with my hookers girls and I was so happy to be raising money for the Leukemia & Lymphoma Society, it was not how I wanted my first half experience to go.  This time I feel much stronger and ready to hit it.
Last week, I ran a total of 15 miles, with my longest run being 8.5 miles- woot woot!
However, my lovely lady friend must be getting ready to make a visit because I am wanting to eat everything single salty snack in my home….and I am.  I am guzzling the water to offset the sodium intake but um, well, I won't be surprised if I have a tiny gain this week.  I hope I can keep it tiny.
Life is so crazy busy.  To add to the normal crazy, my husband and I are doing the unthinkable- moving our family of five to a smaller house noone ever moves to a smaller house! so that we save a shit-ton of money and eventually move to the house of our dreams wanna know what that looks like to us- just ask a few years down the road.  Have we sold our current house?  NO.  Have we even put it on the market?  NO.  Are we in the midst of purging all the crap and getting our house ready to sell?  YES.  Translation:  We have a lot of crap and GOOD GAWD it is difficult to get anything done with the toddler awake.  And man oh man, is there a lot of wear and tear on our house that needs to be painted/covered up/fixed.
I miss my friend Christy.  Yes, our Christy, our fearless Shrinking Jeans leader and someone I have been friends with since 2004.  Before our oldest kids' started elementary school, we would get together about every 6 weeks to visit (we live 3.5 hours apart).  Now, we are lucky to even to see each other every few months, IF THAT.  Our last two scheduled visits were cancelled due to circumstances neither of us had control over.  Although we talk on the phone every single day and we email even more, I still miss hanging out with her even with our combined brood of 5 kiddos- oh the noise!.  I know that I will see her on Nov. 14th, the day of our half marathon.  She is a faster runner than I but I wonder if I convince her to slow her pace down and run with me so that we can actually run the race together, talk the whole time, and cross the finish line together how awesome would that be?  Christy is needing some love right now- could you please go give her some? 
Allrighty-then- that's all my confessions for now.  Gotta don my running shoes and hit the trail for some more running mileage.  I'm outta here- ADIOS!!!!!