Winner winner- random.org chose Carla as our winner.  Carla, please forward your address to [email protected].  Thanks and congrats!
Ever heard of Taste of Home, the #1 cooking magazine in the world?!
I absolutely love and adore ALL things published by Taste of Home, whether it comes from their website,  their cooking magazines or their cookbooks.
Today, I want to talk about their newest cookbook I have a cookbook obsession.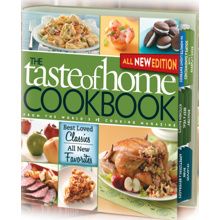 Let me just start off by saying this is not a "dieting" cookbook.  Meaning, it was not written specifically to help you lose weight.  That being said, the cookbook does include nutrutional information on every single recipe- all 1, 563 of them!  You can then decide for yourself what fits for your lifestyle or for the choices you are making that day.
Other features:
1,500+ recipes, many with photos 
Stay-flat binder with a brand-new design and splashguards
Hundreds of tips, techniques and how-to's
Bonus chapter of 100 30-minute light entrees
Free subscription to Taste of Home magazine ($23.94 value) – wahoo!!!!
Would it be redundant to say that I love Taste of Home? 
I love it so much that I have one copy of this cookbook to giveaway!
To enter:
Disclosure:  I received a copy of this cookbook for review purposes only. No monetary compensation was provided. Of course, as always, the opinions expressed are our own.