OK, so how are you liking our Taste of the Sisterhood?
Are you trying our recipes? What have you made?? What are you dying to try?
I tried one this week from one of YOU and I just about died and went to HEAVEN.
Thank you for sending me recipes, ya'll! I'm having fun over here!
  Print This!     So here is the recipe I tried this week: TERIYAKI SALMON BY Laura at Laura's Daily Adventures and the recipe is actually by her husband! So good for you, husband! This was awesome!!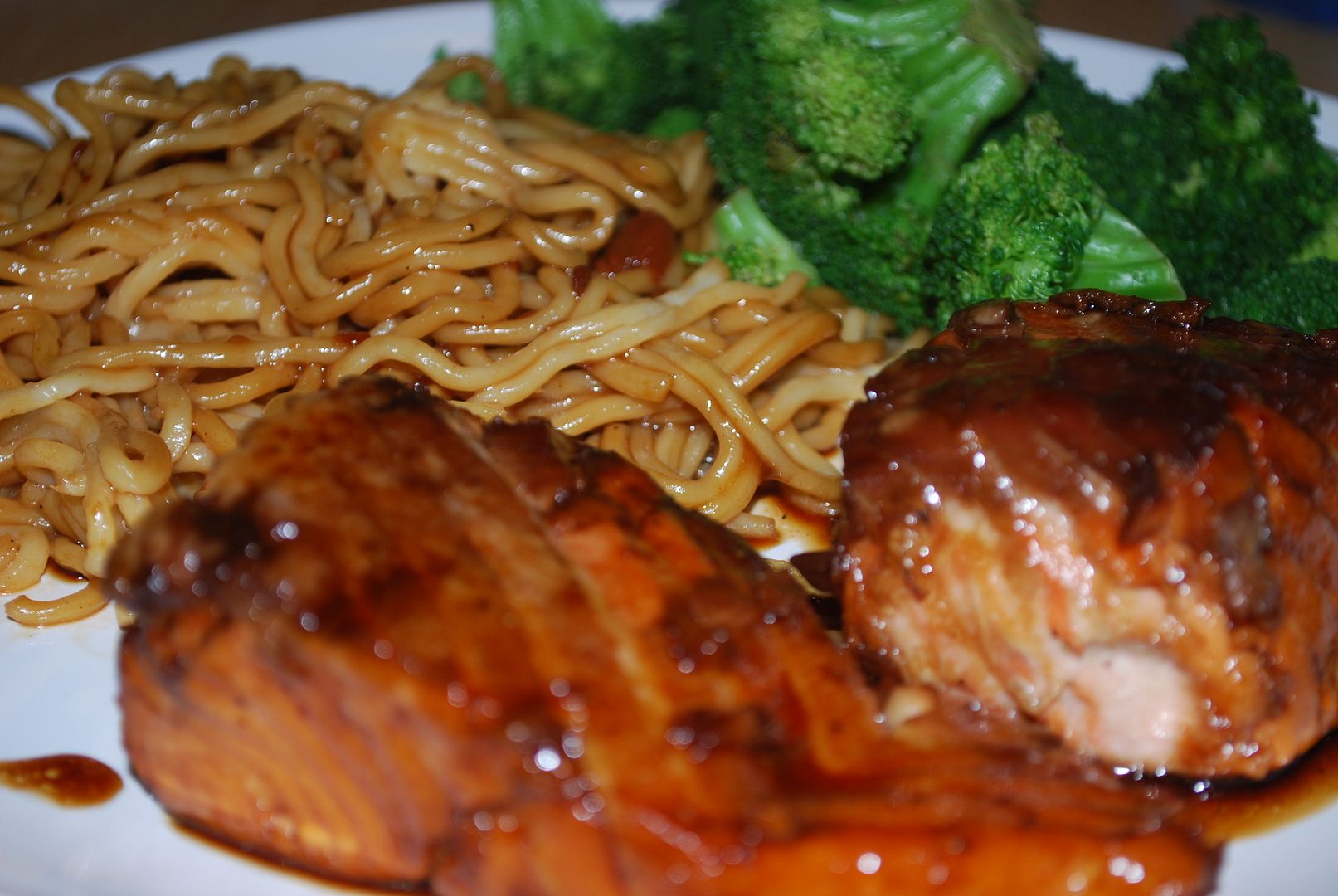 Ingredients:
1 c. brown sugar 1/2 c. soy sauce 1/2 c. water 2 T. lemon juice 1 T. black pepper 1 lg green pepper, cut into approx 1″ pieces 1/2 medium onion, cut into approx 1″ pieces 2 stalks broccoli, cut into florets 1 small box Uncle Ben's instant brown rice (will need water and butter to prepare) 4 salmon filets (your choice of size)
Extra Virgin Olive Oil
Directions:
Whisk together first five ingredients to make the teriyaki sauce and set aside. Prepare rice according to package directions. Heat a large skillet over medium high heat.  Add 2 T. olive oil. Sear salmon fillets skin side down for approx 5 minutes until skin is crispy.  Remove from pan. Pour teriyaki sauce into pan and bring to a boil.  Replace fillets in pan, skin side up, and carefully remove the skin (should peel right off).  Cook for 8-10 minutes.  Turn and cook about another 5 minutes. Remove fillets and reduce sauce until thickened.
Meanwhile, place veggies in a bowl and microwave on high approx 3-4 minutes until crisp-tender.
Combine steamed vegetables with rice.  Place a mound on each dinner plate and top with a salmon fillet.  Drizzle with extra teriyaki sauce.
Now, I have a confession to make. I did not use the rice, I was jonesin for some lo-mein noodles, so I found an instant teriyaki lo-mein noodles and the sauce on that was actually very icky so I added the teriyaki sauce to the noodles and ate it with the salmon and it was fantastic!
I hope you LOVE it like I did!
Stats on the fish and sauce: 500 calories
12 g. Fat
That's not including the side dish, but you can make your fish portion a little smaller too if you want to trim some calories, but DELICIOUS! Thank you Laura! This one's a keeper FOR SURE!
Have a recipe you'd like featured? Send them to me at [email protected] and I might try yours and feature it!! Meantime, leave us some comments and tell us what you've tried during our recipe fest!
Taste of the Sisterhood is sponsored by Attune Foods!