January 19, 2011 By Mel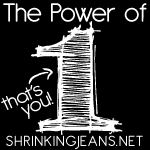 It's Wednesday, so that means it's time for my Week 3 update for the Power of One challenge here at the Sisterhood. I wasn't sure what to expect given I had such a tiny loss at Weight Watchers on Saturday, but the scale recovered and showed me another nice loss for this week's Power of One home weigh-in.
Challenge Starting Weight: 274.0 Last Week's Weight: 268.4 Current Weight: 267.0 Weekly Loss: 1.4
Total Challenge Loss: 7.0
I can't believe I've actually managed to lose 7 pounds in just three weeks! I guess there really is something to this whole tracking what I eat and exercising thing. Who knew?!
Until next time …
Mel