From Christie O.:
I was on the road last week for 12 hours so I didn't get to check in until Monday and I almost fell down when I saw my name for the spotlight! OK, I was sitting so I didn't fall down, but I did cry! So thanks Roo, for all your kind words, it was so awesome to meet you in person and you are so stinkin cute. Thank you, so, so, much.

Oh, to choose just one Sister for the Spotlight!!! This is so hard!! There are so many people who have inspired me this week from reading the January projects we've been doing, and one of them especially is Joanna, from Diary of a Mad, Fat Woman. Joanna is a mother of three and a full time student in her last semester, pursuing a degree in Elementary Education. Honestly I don't know how she does it. She's made of awesome.

Anyway, I "met" Joanna through the Power of One challenge and have just become a regular at Joanna's blog because I love her honest posts about her journey and I love being along for the ride. Instead of the "dieting" that we have all done so much of, last year she just decided to finally CHANGE HER LIFE and her family's life. She's lost 60 pounds so far through exercising and eating right. She's currently on week 3 of Couch to 5k (a plan that will always have a special place in my heart) and she's KICKING BUTT! She's come so far and she's now *thisclose* to "Onederland" and on her way to meet all her goals and I'm so excited she's here in the "Power of One" challenge and here at the Sisterhood with us! 2011 is your year Joanna! You rock!! You're motivating, you're inspiring and that's why you're in our Sisterhood Spotlight this week!! (pssssst. Hey everyone, go visit her and cheer her on!)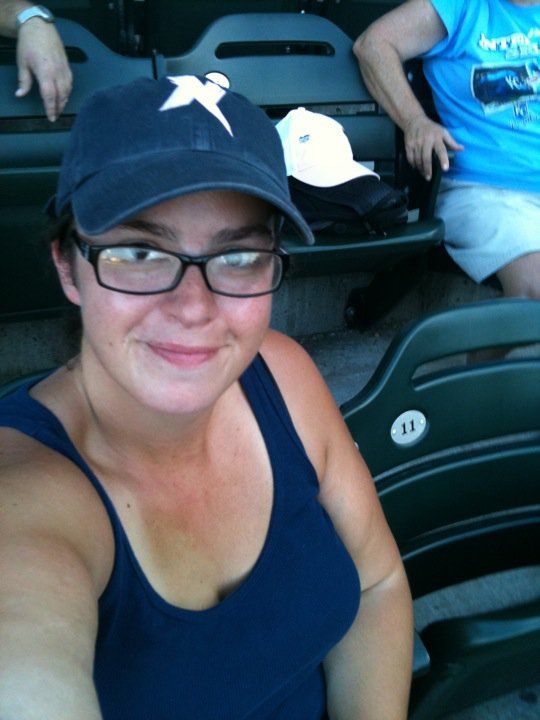 Name: Joanna H.
Blog: www.diaryoffatwoman.blogspot.com
Twitter: @madfatwoman
Age: 29 (on Tuesday)
Hometown: Decatur, AR
Tell us about your family. I have an amazingly supportive fiance called Steve.  I also have three children; two daughters: Payton, 10 and Jada, 3 and a son, Brayden, who is 9.  On my blog these important people in my life are known as Hubby, Peanut, Butter, and Jelly.
What is your favorite workout? Hands down, running – or my C25K training program.
What do you consider your biggest accomplishment? Going from not being able to walk 1/4 of a mile without stopping to rest and feeling like my heart was going to pump out of my chest to running a full mile without walking…in 12 minutes and 44 seconds!
Have you set any goals for this year? Yes!  Thanks to The Sisterhood and Project of One, I have created many goals.  On top of that list is to lose 80lbs, to run a 5K without walking, and to run a 5K in 36 minutes or less.
Who is your best support in your healthier-living journey? My family. I have to give them major kudos.  They've willingly changed their eating habits to support me, embrace trying new foods, and get excited about my accomplishments.  Also, The Sisterhood!!  The stories, comments, and blogs of those men and women that are fighting the good fight – right along with me.
Favorite songs on your iPod right now? Hmm…that's a toughy.  I don't really have a favorite song.  I LOVE my C25K podcasts and my Biggest Loser Workout mixes.  When I'm not working out, I mostly listen to the radio and I listen to current pop stations.
Who or what inspires you? One of my biggest inspirations has been Collen from Fit Bee. I've followed her blog and her accomplishments for as long as I can remember, and she gives me motivation that I can succeed with all of my goals.  Also, reading blogs of others that are struggling but finding their way…that always gives me a boost of motivation and inspiration.
Do you have any must-have health/beauty/clothing products? My Bondi-Bands.  I LOVE THEM!! I hated trying to run and work out with sweat pouring on to my face and in my eyes.  They fix that problem.  I have several – and even had a custom one made that says "I am Woman, Hear me ROAR!"  It's my favorite.
Name 3 blogs you love to read! In addition to the daily posts at Shrinking Jeans, I also love to read Colleen's blog, Christie O's blog, and a blog called Kat's Adventures in Dietland.
5 things we don't already know about you!
I was born in London, England and lived there until I was 12
I am a huge procrastinator and won't finish anything until the day before it's due
I am a big American Idol fan – love it even more this season!!
I would love to visit India one day because I am in love with their food and their cultures
I'm a fan of anything Gordon Ramsey: I watch all his shows (all 500 of them..LOL) and want to start collecting all of his cook books.
(Visited 173 times, 1 visits today)
Tags: C25K, Christie O., Diary of a Mad, Fat Woman, featured, Interview, Joanna, Sister Spotlight
Category: Melissa, MIND IT, Sister Spotlight, The Sisterhood