February 9, 2011 By Mel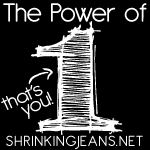 Wow, where does the time go? Can you believe we're already six weeks into this challenge? It's almost time for it to end already and it seems we just got started!
Yes, that's right, it's Wednesday, so that means it's time for my Week 6 update for the Power of One challenge here at the Sisterhood. Here we go:

Challenge Starting Weight: 274.0 Last Week's Weight: 264.8 Current Weight: 263.2 Weekly Loss: 1.6 Total Challenge Loss: 10.8
Woo Hoo!! I'm actually shocked I showed a loss this week. I gave in to a bit of emotional eating on Sunday night and I wasn't sure how it might affect the scale. On the positive side, I tracked everything I ate and somehow managed to squeeze it into my food plan between by daily PointsPlus target and my Weekly PointsPlus Allowance. Yay for Weight Watchers!!
Oh, and on another positive note, no more making you all look at my skanky toes. I made time to go get a manicure since my last update. LOL
How was your week? Be sure to report in and link up on this week's challenge post.
Until next time …
Mel