February 16, 2011 By Mel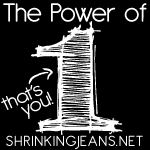 Ok, where exactly did the last week go?! I can't believe it's Wednesday again already! Since it is, that means it's time for my Week 7 update for the Power of One challenge. Can you believe there's only one week left in this challenge?!

Challenge Starting Weight: 274.0 Last Week's Weight: 263.2 Current Weight: 263.4 Weekly Loss: +0.2 Total Challenge Loss: 10.6
Well, as you can see, I'm up a tiny bit this week. I'm actually OK with it though. This is my birthday week and I've had a couple of meals out with friends to celebrate and even enjoyed some beignets at Brennan's Jazz Kitchen on Sunday. Given all that, I'm not gonna cry over a 0.2 pound gain. In fact, I consider it a bit of a victory to basically maintain this week! LOL
How was your week? Be sure to report in and link up on this week's challenge post.
Until next time …
Mel