Winner winner chicken dinner!  Ann G, you are the lucky winner of this wonderful giveaway.  I will email you with the promo code for your race entry.  Congrats and get running : ).  Lisa
Not Zumba.
Zooma.
As in the Zooma Women's Race Series.  Half marathon (13.1 miles), 5K (3.1 miles), and/or 10K (6.2 miles)  races in four cities across the United States. 
You might be wondering, what exactly is this *Zooma* thing all about?  About Zooma:  
Imagine a powerful sea of women on the move–encouraging fellow runners and celebrating personal running triumphs.  Picture a post-race party and expo all wrapped up in one memorable "after-party expo" where these strong goal-oriented women come together for well-deserved partying and pampering.  This is ZOOMA Women's Race Series presented by New Balance.
ZOOMA Women's Race Series is an exciting new concept in women's running that celebrates the power and beauty of all women.
Purpose is to promote women's and girls' health and fitness by encouraging them to participate in a challenging and fun running event
Pampering amenities and exciting entertainment with a "girls' weekend" atmosphere
Inaugural event held in Annapolis, MD on June 1, 2008 attracted over 1,600 runners
ZOOMA welcomes both men and women to participate in all ZOOMA events.
Back up. 
A race designed for women (but men are welcome to race, too!), celebrating our triumphs, our beauty and each other?  I AM SOLD.  I am already in love with running but to be able to share that with others in a race environment while celebrating just how wonderful and powerful our bodies are just sounds magical to me. 
So when Zoomaput out a call for applicants for the Zooma Austin Ambassador-ship, I answered.  Apparently, they liked what I had to say ( I snowed them, didn't I?!!!) and I, along with 5 other lovely ladies, make up the Zooma Austin Ambassador Team.
Here's a group picture from our first group run last weekend here in Austin (my first group run E-V-E-R.  Sidenote: I have NOT mastered running long distances AND talking at the same time.  Just so you know.  In due time, right?).  I'm smack dab in the middle, with the pink 13.1 Bondi Band.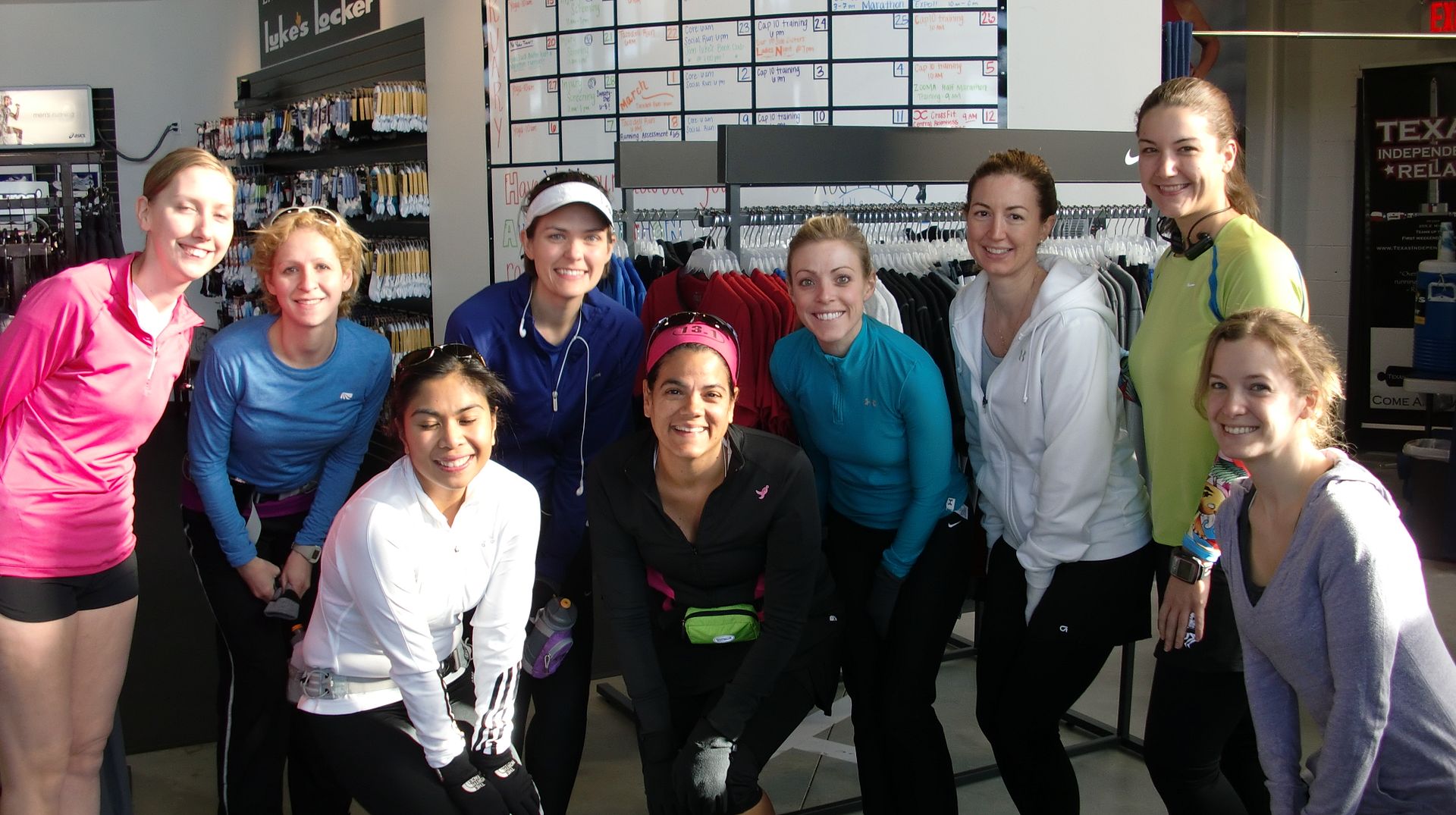 So you might be wondering what this has to do with you.
I am registered already for the ZoomaAustin Half Marathon on April 16th.
I was wondering if any of you might like to WIN a free race entry for the Zooma race of your choosing?
Anyone?  Anyone? (look up above for the four race locations). For any of you who have paid for race race registrations before, you know that winning one for FREE is way better than paying for it. IJS.   If you win, you can use your FREE race entry for either the 5k, 10k or half marathon registration- you choose!
That's right- I have ONE FREE race registration to giveaway to ONE lucky reader and you get to choose the race location and the race length (5K, 10K or half marathon).
You might be thinking- I am new to running or I can barely walk three miles or the thought of running a half marathon scares me.  You can do it with dedication, desire and discipline- pinkie promise!  Plus, we'll be there along the way to support, motivate and encourage you along the way.
Anyhoo, TO ENTER:
Leave a comment telling us a little something about your running experience, what race you might like to do, and whatever else you might like.
For an additional entry, follow Zooma on Twitter and tweet about this giveaway.  Be sure to mention @shrinkingjeans and @zoomarun.
For one more entry, like Zooma Women's Race Series on Facebook and tell all your Facebook friends about this giveaway for an extra entry. Come back here and leave a comment with a link to your profile.
Giveaway ends on Friday, March 4th at midnight PST. Winner will be chosen at random and announced on Saturday March 5th.
So tell me- are you ready to Zooma?
Disclaimer: Giveaway provided by Zooma Women's Race Series.  We were not monetarily compensated for this post in any shape or form : ).
P.S. For any of you who already know that you want to run a Zooma race regardless of this giveaway, I have a promo code that you can use to get $10 off the half marathon or 5K/10K.  I will post the promo codes in a separate post!
P.P.S. Our Weight Watchers Cookbook giveaway ends tonight at 12am PST.
Tags: 10K, 5K, featured, half marathon, lisa likes to run, race registration, running, zooma, zooma women's race series
Category: Fitness, Giveaways, Lisa, LOVE IT, Running, The Sisterhood