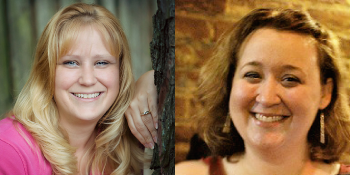 First of all, I want to thank each and every one of you that put yourself out there to be considered for our social sister! I am honored that there were so many of you!
Second, ohmygoodness. This decision was so hard. So hard. I mean, all of you are so awesome and could bring so much to our site. Christy and I decided to go with a team and think these two ladies will complement each other well and do us proud! They both have been such wonderful supporters and encouragers to so many of our sisters already!
Give a warm welcome to our two new social sisters:
Trish and Audrey!!
These lovely ladies will be hanging around the 'hood, as well as chatting it up during our SisterChat Monday nights at 8 Central!
Congrats Trish and Audrey! We are so excited to have you join our team!