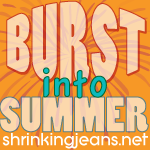 Thank you all for patiently waiting for me to bunker down for the night and get the leaderboard finished! I'm in Montana… almost home! 🙂 I am deathly tired and hope I am making sense.
I am excited to say that the Top Shrinking Team this week had ALL FIVE members check-in! Not many teams can say that!
These members belong to TEAM 9! They lost 2.25% of their total weight this week! Whoa!
Congrats to:
Ashley L
Cheryll C
Heather A.
Nalonni M
Susan M
The other 9 teams rounding out the Top 10?
1.61% TEAM  5 1.50% TEAM 24 1.35% TEAM 6 1.24% TEAM 8 1.22% TEAM 13 1.05% TEAM 22 1.01% TEAM 25 0.99% TEAM 31
0.98% TEAM 4