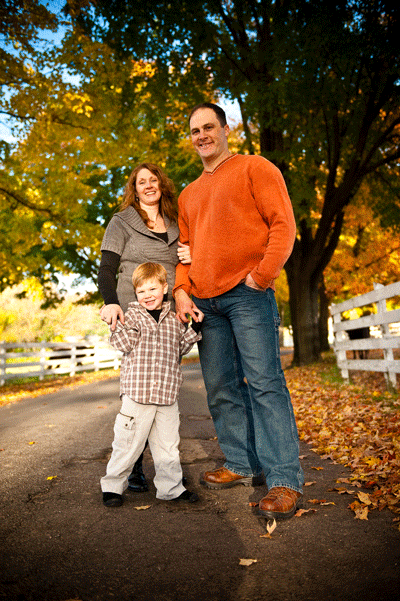 Name:
Tracey Sanders
Blog:
one-more-minute.blogspot.com
Twitter:
@asoulm8
Age:
42 (43 in August)
Hometown:
Dover, DE
Tell us about your family.
My husband and I will have been married for 7 years in September and my son is going to be 5 in October. We live in Maryland about 25 minutes away from Annapolis, DC or Baltimore.
What is your favorite workout?
Recently I've been only walking and doing some of the #tworkouts while resting my knee. I enjoy running, though I am not sure I am cut out for it. When it comes to weight training, I don't like doing the same thing over and over again. I get too bored with it, so I mix it up with DVDs like Jillian Michaels, the Wii using Active, and a few collected workouts.
What do you consider your biggest accomplishment?
If you ask my Grandmother what she thinks the most amazing thing I've ever done is, she would say – "Can you believe Tracey drove herself from Florida to Delaware in a U-haul with her car towed behind her?" I won't say that is my biggest accomplishment, though, I think I am most proud of giving birth to my son – he was a mere 10 lb 4oz baby.
Have you set any goals for this year?
My number one goal this year is to nurture and take time for myself again. I realized recently that in the last 4 years I have been completely lost in taking care of everyone around me, except myself. I found out I have Hashimotos Hypothyroidism about a year and a half ago and we believe that I probably had thyroid issues for about 2.5 yrs before being diagnosed. I feel like I really lost a chunk of time there. Gaining weight, being very forgetful, losing hair and just being overall exhausted. Working out, finally getting on track with meds and really focusing on me, is making me a much happier person and a better friend/mother/wife for my family!
Who is your best support in your healthier-living journey?
There is no question that my best friend is my number 1 fan and supporter. She will give me grief, opinions, overall encouragement when I need it (and I give it right back). She has stood by me for almost 12 years now with our friendship which includes all things health related. I still remember when we both started to find healthier foods to eat and we'd cook meals together so we'd split them for the week. It was so much easier then. We were both single and lived only a couple blocks from each other. Between the gym, healthy food and foot travel to each other's homes, I was definitely healthier in those days! Moving, marriage and a child have all taken their toll and well, I am determined to break that chain.
Favorite songs on your iPod right now?
I have two fitness tracks. One is all the upbeat songs from Glee Volumes 1, 2, 3 & 4. My other Workout track has a wide variety of music, including Takin' Care of Business (Bachman-Turner Overdrive),  Dirty White Boy (Foreigner), Big Bang Theory Theme (Barenaked Ladies), Big Time (Peter Gabriel), Learn to Fly (Foo Fighters), Smokin (Boston) and a bunch of others. Yeah, I told you it was a wide variety.
Who or what inspires you?
As controversial as it is, Biggest Loser still continues to inspire me. Though it's become much more commercialized and there are many changes it's going to endure with Jillian leaving, I love it. It motivated me during the cold weather, watching (while doing the #tworkout) as each individual starts out so broken and seeing their journey as they figure things out about themselves and they have breakthroughs each week. It's even more inspirational to be able to watch the contestants that I am most connected with as they journey further with their blogs and twitter. I think the top of my list with the contestants is still Tara Costa. That is one strong individual!
Do you have any must-have health/beauty/clothing products? Not really brand specific items to recommend. I do love my "Badass Mother Runner" hat from Run Like a Mother and hope I can keep running so I can continue to wear it!
Name 3 blogs you love to read!
Manic Mommies Shrinking Jeans
The Pioneer Woman
5 things we don't already know about you! I can surf the web like nobodies business I would love to be a wedding coordinator or party planner I love to bake and cook.
I've taken approximately 7,974 photos (not including iPhone photos and rejected pics) since beginning my 365 Photo Project  – http://one-more-minute-365photos.blogspot.com/
(Visited 88 times, 1 visits today)
Tags: Biggest Loser, exercise, featured, Melissa, motherhood, running, Sister Spotlight, tracey s, weight loss, women
Category: MIND IT, Sister Spotlight