June 15, 2011 By lisa
When I ran the San Diego 1/2 Marathon in June 2010 (my first!) I weighed 173 lbs.
When I ran the San Antonio 1/2 Marathon in November 2010(my second!) I was a measly 163 lbs.
When I ran the Zooma 1/2 Marathon in April 2011 (my third) I was 167  lbs.
When I weighed in this morning I was 169.6 lbs.
While I am still within the *range* that I wanted to be in for this part of the year, there is still nonetheless an upward trend to my weight and I do not like it one bit.  Sure, I had all kinds of life stresses going on Feb through May of this year and my emotional eating kicked back into high gear.  The exercise regimen I have made a habit is what has kept my weight gain to a minimum during this time, but imagine what my weight loss could have been if I hadn't let myself soothe with chips and salsa at night?
I was talking with a friend the other day and she was lamenting over the fact that all the good FREE kids stuff in our area is in the morning, usually at the same time that she goes to the gym.  She was giving up her gym time to take her kids places.  I told her that going to the gym and exercising is my #1 priority each and every day and that my kids would be just fine playing there….or elsewhere later in the day.  I do so much for them, but exercising and fitness is FOR ME and that I am NOT willing to give it up.
I make fitness a priority.
And now, I want to make fueling my body properly a priority.
I am sick and tired of talking the talk but not walking the talk.
I can already do so freakin' much even with putting crap in my body.  Imagine how much better I can run/swim/bike/Zumba/strength train if I only put the right foods within.  Weight loss is important but even more important is HOW I FEEL and HOW my body feels during my endurance training whatevers.
I so badly want to be the machine my head already thinks I am.  I have so much power but I know I can do so much more.
I just know it.
So yeah, I am ready to burst out of this mindset that *I am good enough where I am*.  Oh hell no.  I want to burst free from the comfortable-ness of where I am and bring myself  closer to 160 lbs.  I want to be lighter- mind, body, and spirit.
I can do it.
April 19, 2011 By lisa
I want to participate in True Confessions this week because I have lots of good things to confess.
First, I ran my third half marathon this weekend and I shaved 5 minutes off my last half marathon time- woot woot!  Even better than that though, I got to run it with my BFF Christy (yeah, this Christy of Shrinking Jeans) and we had the BEST time talking, laughing, bitching about the hills, motivating, and pushing one another.  I am fairly certain she could have run faster on her own, but she says *nahhhh*.  Regardless, the race was exhilarating and awesome at all the same time.  Official race report here.
In addition, our very own Ann joined us for the 5K portion of the race.  It was my first  time to meet her face to face.  I had the extreme pleasure of getting to hang out with her this weekend.  It was so awesome putting an actual face/voice/physical being to the words behind the computer screen.
So what's next race-wise for me?  I can't say exactly what will be my next race.  I would love to say that it will be a triathlon BUT there is still some uncertainty going on in my family life.  Decisions are being made and once those decisions are made, we can move forward to living life and settling down.  Decisions like- are we moving to South Austin or are we moving to San Antonio (related to husband's job/career).  We are living with my MIL right now and I feel like our life has been put on hold, all pending this BIG move/job decision. 
For now, I continue to wait patiently….. and run.
March 13, 2011 By lisa
I'm here but not here.
Life is CRAZY.  I don't want to say that I am struggling because really, THAT was last week.  Now that a few weeks have passed since the shit hit the fan, I have come to terms with the craziness and accepted that it's just going to be that way for a little while longer.  I have processed all that is going on and no longer denying it.  I am no longer procrastinating bitching and moaning and instead, I have moved into DO mode.
This morning Amanda joined me on my morning run and she helped me process IT all even more.  She is good like that and I love her for it.  She can tell that I am not so overwhelmed and in denial….now.  She is also GREAT at giving a listening ear and awesome advice.
The last three weeks have seen us sell our house much faster than we had planned (translation: we hadn't quite figured out what we were going to do while our new house is being built; we have since figured it out), we hadn't determined what course of action to take in regards to kids' schools, my husband's grandmother unexpectedly got very sick and in less than one week's time, passed away, we have been planning a funeral, supporting my MIL in any way we can, picking up multiple family members from the airport, hosting said family members, attending the memorial service and funeral, dealing with all THREE kids having the stomach virus, AND entertaining the thoughts that we really needed to START packing since we have to be moved out by the end of the month.  Oh yeah, the same weekend that we should be moving, I will be in Arizona attending my sister's wedding : ).
That's a lot going on for such a short amount of time.  The one thing that has stayed constant through all of this is my running- it has helped me deal and process and let go and stay sane.  I'm not doing much else but those runs three times a week but whatever.  I'm working with what I have.
So bear with me for the next few weeks.  While I am here, I am not here….if you get what I mean.
I'll be back, I promise.
February 16, 2011 By lisa
At the beginning of this challenge, I had high hopes that I would be safely in the 150′s.  Suffice it to say that I am not in the 150′s and I'm doing good to just maintain.  Life is so freakin' crazy right now that I am struggling HARD to tread water and not drown in the myriad of details.  I am so incredibly tired every single day YET I am having trouble going to sleep at night, which is so unlike me.  I normally have no problems sleeping except in high times of stress.
I guess I am a little stressed out.
And tired.
Did I mention how tired I am?
I am doing the bare minimum to keep up with my half marathon training, at the very least, getting three runs in per week.  I am reading a book on nutrition for runners and that's been enlightening.  I am *trying* to spend more time with my kids and give them more attention as I am finding that they behave better when they have my undivided attention.  When I run, I let myself go, regroup my mental state, and feel good about myself.
I want to put on my cheerleader hat and motivate you and you and you and tell you how proud I am of you and you and you.  It's so hard to do when I can barely motivate myself.
I know, cry me a freakin' river.
Oh look, I have peanut butter smeared all over my pants.  Awesome.
I just wanted to let ya'll know that I haven't fallen off the face of the Earth, that I am still here…..just treading water until life gets a little easier.
January 5, 2011 By lisa
Last week's weight: 166 lbs
This week's weight: 163.8 lbs
Loss of 2.2 lbs
OK, so that's the business part of this check-in.  Done.  It's amazing what adding exercise and eliminating all the holiday food crap can do for a positive weigh-in, isn't it?  I only have 2 more pounds to lose to get back to where I was December 1st- not too shabby in opinion. 
I want to revisit my healthy living goals that I posted last week…..
My Healthy Living Goals:
To drink a minimum of 80 oz of water on non-workout days and a minimum of 100 oz of water on workout days.  This has been easy for me as I am in the habit of chugging water, my body craves it.  So CHECK AND DONE!
To eat 5 servings of fruits and veggies per day.  My body just feels better when I fill it with more of the good stuff and less of the bad stuff. This has been more difficult to manage.  Some days I have hit and surpassed 5 servings for the day, other days I have not.  I am working on this.
To register and compete in my third half marathon- the Austin Half Marathon on Feb 20th, 2011.  I have NOT done this and I can't quite figure out what is holding me back.  Actually, I do know a little of what is holding me back- ME.  I have been sick quite a bit over the last 3-4 weeks and my body has taken a beating physically from the sickies, being tired, and the holiday crazies.  I am just this week getting back into my running training plan, although a stomach virus has hit me once again today.  I am struggling to feel 100% better AND run at the same time and it hasn't been working for me.  Time is of essence now because the 1/2 marathon is only 6.5 weeks away.  I know I can do it, but can I run the half marathon the way I want to run it given the short amount of time I have to ramp up again?  I need someone to heal my body so that I feel great again and then I need someone to give me a good morale boost to convince me that I CAN DO THIS AND CAN DO IT WELL.  THAT is why I haven't registered yet- because of self doubt.  Damn.
To register, train, and compete in my first sprint triathlon (to be identified), possibly even do an Olympic triathlon as well.  I have not registered yet, but right now, I have three tabs open on my laptop of triathlon races that look interesting to me.  Plus, the tri season doesn't really start until May so I have a little time.
To make my workouts count, each and every one of them.  No faking it through a workout- I want to sweat and sweat a lot.  I want to push the boundaries with my physical limits and go beyond them.  Check and done!
Read a book about the "mental game" of training and competing in longer races.  You guys do know that the mental game plays a HUGE role in training and competing, right?  Any book suggestions?  I need some more suggestions!
To drop 10 more lbs : ). Work in progress.
The Power of One.  For me, it's the power of my mind.  So many times, my mind will tell me something different than what my heart tells me that I can do.  Doubt and fear play a huge role and really, I want to kick their asses to the curb once and for all……and well, these damn sick germs that seem to be invading my body over and over.
December 29, 2010 By lisa
I weigh 166 lbs today, which is UP from where I should be.  The holidays have not been kind to me.  Let me rephrase that, I have not been kind to my body during the holidays.  I have maintained my fitness level, exercising and running; however, my eating has been out of control, especially where chips and salsa are concerned.
I know I know, chips and salsa are probably not part of your holiday dinner but it was for me.  AND, I bought the mega bag of tortilla chips from Costco and have proceeded to inhale the bag by myself.  I have a love/hate relationship with tortilla chips.  I love to eat them, I hate the lack of self-control I have around them.
For a while there, I was refraining from buying big bags of chips for this exact reason.  I am WEAK around chips.  Period, the end.  I know this, Christy knows this, everyone knows this.  Not having it in the house made it all that much easier NOT to eat them.  Seems so simple, huh? 
I do believe I need to return to the "no big bags of chips from Costco in my house" notion again. 
"Just Say No" to Tortilla Chips.
My Healthy Living Goals:
To drink a minimum of 80 oz of water on non-workout days and a minimum of 100 oz of water on workout days.
To eat 5 servings of fruits and veggies per day.  My body just feels better when I fill it with more of the good stuff and less of the bad stuff.
To register and compete in my third half marathon- the Austin Half Marathon on Feb 20th, 2011.
To register, train, and compete in my first sprint triathlon (to be identified), possibly even do an Olympic triathlon as well.
To make my workouts count, each and every one of them.  No faking it through a workout- I want to sweat and sweat a lot.  I want to push the boundaries with my physical limits and go beyond them.
Read a book about the "mental game" of training and competing in longer races.  You guys do know that the mental game plays a HUGE role in training and competing, right?  Any book suggestions?
To drop 10 more lbs : ).
BTW, I am already loving this challenge.  Yeah, I know it just started today but the idea behind the concept is just awesome.  When it comes down to it, we have to rely on OURSELF to make the magic happen.
November 17, 2010 By lisa
Good afternoon!
Today is the start of our newest challenge, the Holiday Hoedown!
Did you see my new profile/bio picture?  This is about as "hoe-down" as you will ever see me- HA!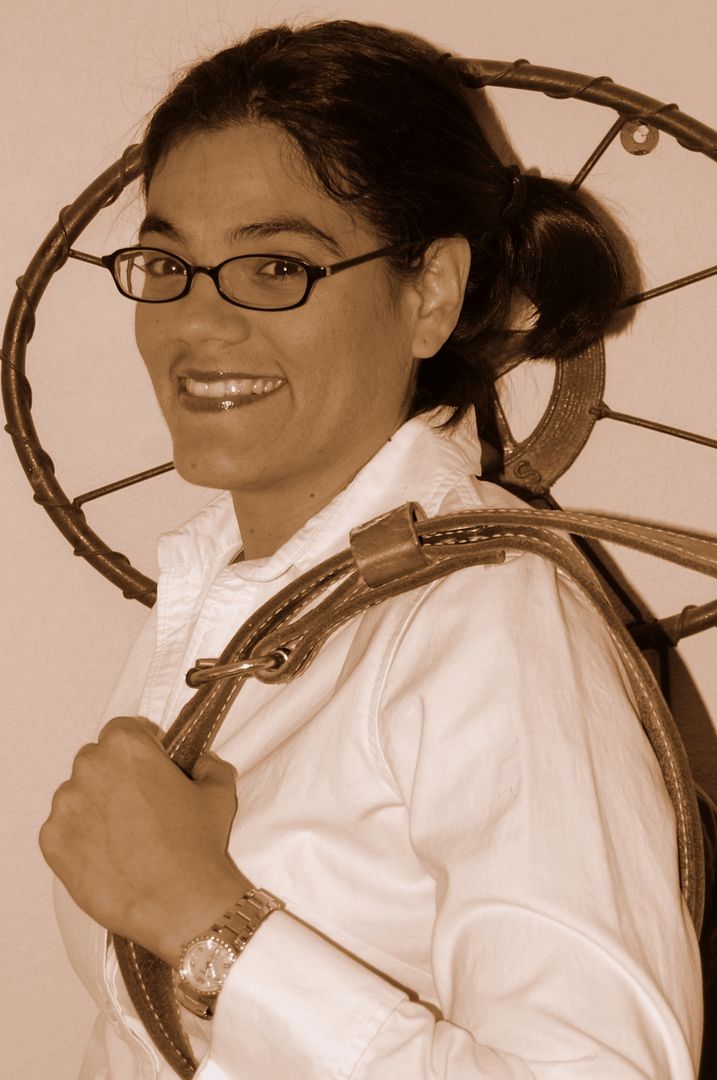 I would like to introduce you to my awesome team- The Healthy Holiday Ho's– and my most fantastic team members:  Bari, Kirsten, Tiffany, Beki, Thea, Jamee, and Elaine. 
While a few of our group are at goal or very close to goal weight, a few of us still have a few pounds left to lose (like me!).  However, the focus for our group during this challenge will be to maintain our health, be fit, not gain any holiday weight, and push each other physically.  Most of us are runners (yippee!) and I know I will enjoy the camaraderie of this group, as these women are some of my favorite Sisters.
Personally, I want at the very least to maintain my current weight and hopefully, get into the 150′s permanently.  This shouldn't be that hard to do since I am sitting at 161.8, but the holiday season is upon us and that means parties, eating and drinking more the norm. 
But not for me!
Starting weight when I began "Shrinking" (Jan 2009): 188 lbs
Starting weight for this challenge (November 2010):  161.8
Goal to lose: 4 lbs
Oh yeah, did you know that I ran a half marathon a few days ago?  Yeah, I am kind of proud of myself and have been tooting my own horn all week.  You can read all about it here.
Now, bring it on!!!!
November 10, 2010 By lisa
but I have a loss this week.  It is not by any means a big loss and it's not because I actually TRIED to lose weight this week.  I think since I have reached the lower 160′s my body has reached a faster metabolism because frankly, I am hungry ALL OF THE TIME. OK, that's not ture, but there will be parts of the day where I want to eat everything.
Anyhoo, I posted a loss this week, 162 lbs down to 160.8 lbs.
Sunday, I run a half marathon- woot woot!
October 19, 2010 By lisa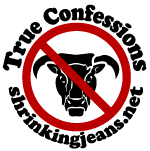 It's True Confessions Tuesday- the day where I lay it all out for all of you to read.  Here we go!
I am running my 2nd half marathon in 26 days- I am beyond excited!  My first half marathon, done with Team Shrinking Jeans, was done with a hip injury and while I was overjoyed to be doing it with my hookers girls and I was so happy to be raising money for the Leukemia & Lymphoma Society, it was not how I wanted my first half experience to go.  This time I feel much stronger and ready to hit it.
Last week, I ran a total of 15 miles, with my longest run being 8.5 miles- woot woot!
However, my lovely lady friend must be getting ready to make a visit because I am wanting to eat everything single salty snack in my home….and I am.  I am guzzling the water to offset the sodium intake but um, well, I won't be surprised if I have a tiny gain this week.  I hope I can keep it tiny.
Life is so crazy busy.  To add to the normal crazy, my husband and I are doing the unthinkable- moving our family of five to a smaller house noone ever moves to a smaller house! so that we save a shit-ton of money and eventually move to the house of our dreams wanna know what that looks like to us- just ask a few years down the road.  Have we sold our current house?  NO.  Have we even put it on the market?  NO.  Are we in the midst of purging all the crap and getting our house ready to sell?  YES.  Translation:  We have a lot of crap and GOOD GAWD it is difficult to get anything done with the toddler awake.  And man oh man, is there a lot of wear and tear on our house that needs to be painted/covered up/fixed.
I miss my friend Christy.  Yes, our Christy, our fearless Shrinking Jeans leader and someone I have been friends with since 2004.  Before our oldest kids' started elementary school, we would get together about every 6 weeks to visit (we live 3.5 hours apart).  Now, we are lucky to even to see each other every few months, IF THAT.  Our last two scheduled visits were cancelled due to circumstances neither of us had control over.  Although we talk on the phone every single day and we email even more, I still miss hanging out with her even with our combined brood of 5 kiddos- oh the noise!.  I know that I will see her on Nov. 14th, the day of our half marathon.  She is a faster runner than I but I wonder if I convince her to slow her pace down and run with me so that we can actually run the race together, talk the whole time, and cross the finish line together how awesome would that be?  Christy is needing some love right now- could you please go give her some? 
Allrighty-then- that's all my confessions for now.  Gotta don my running shoes and hit the trail for some more running mileage.  I'm outta here- ADIOS!!!!!
October 10, 2010 By lisa
I am training for the San Antonio Rock n Roll 1/2 Marathon in November.
Race day is in 5 weeks.
My long training runs are quickly ramping up in the mileage department.
This morning, I ran 7.5 miles in 1 hr and 30 min with an average pace of 12 min- woot woot.
My friend Amanda joined me for the first half of my run.  We wanted to take a picture and were having problems doing it ourselves.  Two male runners stopped and one offered to take our picture.  Cool.
Except that according to him, he had just finished 50 miles (ha ha) and his hands wouldn't stop shaking.   Take after take trying to get a shot of us.  His friend joked about us putting the photo on Facebook, which made me crack up because um yeah, duh- I'm putting it on Facebook.  Then as the runner/photographer is attempting once again to take our picture, he quips- Well, at least your boobs will be in focus.
Amanda and I pause in our banter and then we BUST OUT LAUGHING.  OMG, we couldn't stop laughing.  Some strange runner dude just told us that he was focusing on our boobs and it was the most hilarious and random thing E-V-E-R.
Only with Amanda do these bizarre things happen.  I love having a friend to run with- we have the best time.
I have to say, too, aren't we looking skinny?!  We have both lost some major weight since the last time we took a picture together- how awesome is that?!!!!