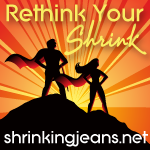 Oh dear shrinkers, rethinkers, and rethinking your shrinkers! I cannot fathom the fact that this is the last weigh-in of the Rethink Your Shrink Challenge! Don't pay attention to the sister behind the computer who's getting all teary-eyed!
(Um, edited to note: Boy, we can't get anything past you guys, huh!? No, you're not crazy. Apparently we […]
[ More ]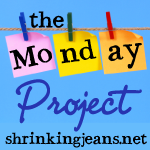 I'm getting a little misty-eyed over here! Rethink Your Shrink is coming to an end! Are you ready? Did you rethink? And moreover, did you shrink?
What happened over the past 7 weeks? Did you move more? Did you find victories? Did you find non-scale victories? Did you do something you've never done before? (And […]
[ More ]
**UPDATED! WINNER of the GU giveaway is: LadyG8r!!  Congrats!! Please send me your snail mail address at [email protected]!**  
I love GU. Pronounced "goo."
GU is an energy gel. What is this energy gel I speak of? And who should be eating these? And why? Do we really need these in our lives?
Yes. But not all the time. And […]
[ More ]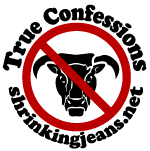 We're all good. We're all  great. We are all wearing our little shiny halos, right? NOT!!!! Maybe I'm just speaking for myself but I gotta tell ya, I have one big confession on this True Confessions day and it all centers around last Wednesday. Oh, that fateful day.
I need to erase this week and start over. This […]
[ More ]

Just a side note, I'm not sure how this is FIVE layers…I counted three. Maybe four, if cheese is a layer. Anyhow… I wanted to make something snack-y, because the biggest snack day all year is coming up – SUPER BOWL!
Did you know the Super Bowl is the highest chip consumption day of the year? True […]
[ More ]

When you first start trying to lose weight, it feels like no one really believes that you're going to stick it out. Ya know, based on past histories if you have them, like me.
At first there's resistance. You get a lot of questions. A lot of tests. "Mom, can we buy those cookies? Honey, do you […]
[ More ]

*Updated! Check the end of the comments for the winner. Thanks to all who participated!
If you've been on the Weight Watchers forums, or read Hungry Girl, you've more than likely run across a lot of talk about VitaTops.  Personally, I'd heard a lot but had never tried Vita Tops or any of the Vitalicious. And […]
[ More ]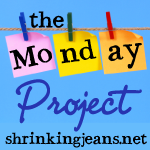 It's here! It's here! (And yes, I've heard you all calling it "Homework" behind my back! ) OK, fine, I guess it is. But I really want us to think of this as yet another tool to arm ourselves in our constant battle with "Can I?"
Because yes we can! I love punctuation because it makes the […]
[ More ]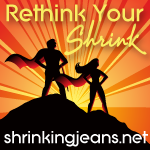 We're having some fun on this sort of potpourri Thursday Three . (Look at that, I rhymed!) Today I give you three fun facts/slash/embarrassing moments.
1. I would like to state for the record that for week one of our Rethink Your Shrink challenge, we as a group lost about 75 pounds! Wait. I'm going to say […]
[ More ]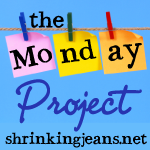 Welcome to the first Monday Project of the Rethink Your Shrink challenge: Project "Me"!
This week, we're going to take a look back and ask ourselves some questions, about ourselves. On account of the whole rethinking our shrinking and all. We're going to dive right on in and figure out why we're here right now and […]
[ More ]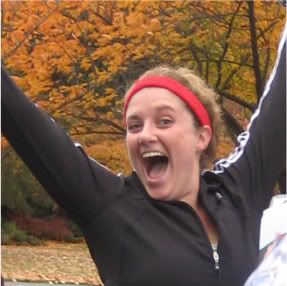 I would be willing to bet that if I sat down to dinner with almost any one of you, I'd be finished with my plate before you had a chance to cut your meat.
I am a speed eater. I literally inhale my food. By the time I realize that I've almost cleaned my plate, I […]
[ More ]
Alright, ladies and gent(s), it's Wednesday so you know what that means! Glee is on tonight! No wait, sorry.  That's not why we're here.  Silly me!  We're here to weigh in!!
Go jump on those scales and then come back and tell us how you did.  Do you have something to celebrate?  Did you have a major revelation?  […]
[ More ]
Good morning, Sisters and Brother! It is the Wednesday after a major (U.S.) food-centered holiday and, as I've read, there were also birthdays (Brian!) and children's birthdays and husband's birthdays going on this past weekend, and well, it's been an eating nightmare to many people this past week, to be perfectly honest.
How has it been for you? […]
[ More ]

Your breakfast will be delicious tomorrow (or later today), I promise. You just have to make these muffins.
This recipe is a staple in my home and my children love it. I found this recipe for Applesauce Oatmeal Muffins on Spark People when I was diligently logging my calories (which I shall begin doing again as […]
[ More ]
Sound the alarms, it's weigh-in day!
Last week, Heather described my trek to the scale so perfectly in her weigh-in post that I laughed out loud as I took every step in the perfect way in which she described. Something about heading to the scale, looking at the numbers with our "scrunched up eyes", naked and after having already […]
[ More ]
Featured
Choose You

I'm guilty of it and you probably are too. Most women are, in fact.
What am I talking about? Putting your own health on the back burner to attend to the needs (and, let's face it, WANTS) of others. There's laundry to wash, fold, and put away. Breakfasts, lunches and dinners to prepare. Sporting events, rehearsals, […]
New Recipe
Makeover Nacho Beef Bake

Isn't this a pretty picture?!  I took it : ). Simple, easy, and delicious.  What more could you want from a recipe?  I found it difficult to control myself at one serving- that is how yummy this one is.  Consider yourself forewarned! Makeover Nacho Beef Bake (online here)

Ingredients

1-1/2 pounds lean ground beef (90% lean)
1 can (15 ounces) […]
Most Popular