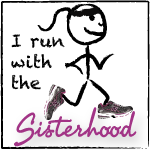 Days spent training: 126 Funds raised for the LLS by Team Shrinking Jeans: $43,725.65 Funds raised by all San Diego Rock 'n' Roll TNT participants: over $12 million Miles ran/walked: over 200 Toenails lost: 2.5 and growing Injuries and tears shed: so many
Laughs, hugs, and smiles: Far outnumbered the tears and injuries.
A year ago, I could not run more than […]
[ More ]

I remember when I first embarked on my 50 pound journey.
I was overwhelmed. I didn't know where to start. I began to accept my "fat" self as normal and the person that I was destined to be. I had a 2 year old and a 6 month old and it was spring. Which also meant: […]
[ More ]

Some of you may remember that way back when Team Shrinking Jeans was formed, that I was a part of it. Also, if you know me at all, then you know that there is no part of running that I like. Every single minute feels like pure torture to me, but I decided […]
[ More ]

The Athlete's Kitchen Copyright: Nancy Clark MS RD CSSD May 2010 Protein, Carbs & Endurance Performance: Finding the Right Balance
If you are curious about how to best fuel for endurance exercise, here are some tips presented at the 27th Annual SCAN* Symposium, April 2010.  The information was presented by Asker Jeukendrup PhD, […]
[ More ]

Here in Florida, we went from winter, almost straight to summer. Our spring, which usually lasts until the end of May, ended instead at the end of April. It's the first week of May and already I'm finding myself running in that oppressive summer heat, which means a humidity of 80-90% and a temperature of 80 degrees and higher. Egad! It's HOT!!
Instead […]
[ More ]

Mornings are not my favorite time of day.  Generally speaking, I don't really like to get out of bed. That feeling is magnified by the fact that my daughter doesn't really like to get ready for school in the morning. It makes for a pretty stressful beginning to the day.
Lately, I've been trying to find a […]
[ More ]

How many of you exercise?  Workout?  Get the heart pumping?  Go ahead, raise your hand.
Do you ever get bored with exercising?  I know I do.  Even though I love to run, there are some days a lot of days where I just don't want to do it, or the idea of running gets pushed to […]
[ More ]

It's Spring. Can I get a HECK YES?! [raises roof] Time to get outdoors. Hit the trail. Get some fresh air. Eat some trail mix. Be one with the wilderness (okay, I got a little carried away). Yep – it's hiking season!
If you've never been much of a hiker, I've got to tell you, it's some fabulous […]
[ More ]

I admit that winter got to me.  I'm sick of the cold, wet, dreary weather.  All it makes me is lazy.  And lazy I have been.
Isn't it funny how much weather can affect our moods?  The past few weeks here, it has been such a struggle to get up and get moving, but this week?  […]
[ More ]

Time is what we want most, but… what we use worst. ~William Penn
I'm going to be honest with you.  I'm struggling a little bit right now.  I'm having a hard time figuring out when I'm going to do the stuff that I "need" to do during the day.  It seems like everything is equally […]
[ More ]

Fitness Friday is upon us, and this week I'm going to give you my top fitness picks, and in turn I want you to share yours! There are so many Sisters (and hopefully some brothers lurking out there), with different experiences we can all learn from. So check mine out and then share your top […]
[ More ]

We are getting ready to embark on another odyssey of the 30 Day Shred here at the Sisterhood. I do love me some Shred, but I will be sitting this one out, since it's not really compatible with my herniated disc problems! I thought it would be fun to write about some of my other […]
[ More ]

I don't know about you, but every time the Olympics roll around, I get this huge swell of emotion and inspiration – watching all the absolutely amazing, determined athletes push themselves to the limit to acheive a dream. Seeing what the human body is capable 0f – witnessing the tears, sometimes of joy, sometimes of […]
[ More ]

The winner of Galloway's Book on Running is Audrey and the winner of Marathon: You Can Do It is  "Gmstep".  Ladies, please email [email protected] with your home addresses so that I may get those books in the mail to you.  Congrats! Are you a beginner runner?  Expert runner?  Never ran before but thinking about it?
I started […]
[ More ]

So, show of hands…who's been joining us for our Last Chance Tworkouts on Twitter every Tuesday during the Biggest Loser??  Come on, I want to see those hands!!! Now, who has seen our tworkouts and doesn't watch the Biggest Loser, but wishes they could join in anyway?  Raise those hands high people!!
Here's the thing…every Tuesday we […]
[ More ]