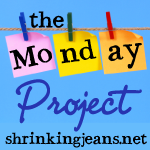 Good morning, everyone!! Happy Friday!! How did you do on this week's project? The task this week was to sit your butt in 2011, picture what 2010 was like, and write a letter to yourself about it. What hurdles you have overcome and goals you have met.
I really loved doing this one because I told myself that […]
[ More ]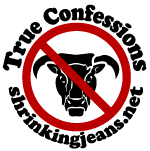 We're all good. We're all  great. We are all wearing our little shiny halos, right? NOT!!!! Maybe I'm just speaking for myself but I gotta tell ya, I have one big confession on this True Confessions day and it all centers around last Wednesday. Oh, that fateful day.
I need to erase this week and start over. This […]
[ More ]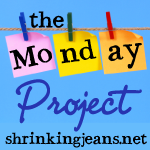 **UPDATE** Duh! I almost forgot to announce the winners from last week's project! They are Renee at CutieBootieCakes, Jennifer at PrairieKnitWit Cooks and Shrinks and Audrey at The Lewis 4! Send me your snail mail if I don't have it already!
Project Peopllllllllllllllllllllle!!!! (Said like at the beginning of "Whoop There It Is!" where he yells, […]
[ More ]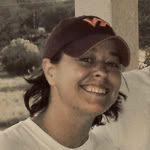 **Congratulations to our winners: Audrey, Becca, and Tobey!! It's time to get your dance on, girls!**
Have you ever watched one of those dancing shows and wished you could do those dances?  Or do you just like to shake your bootay in general?  (Some of you may or may or may not like to dance in […]
[ More ]

When you first start trying to lose weight, it feels like no one really believes that you're going to stick it out. Ya know, based on past histories if you have them, like me.
At first there's resistance. You get a lot of questions. A lot of tests. "Mom, can we buy those cookies? Honey, do you […]
[ More ]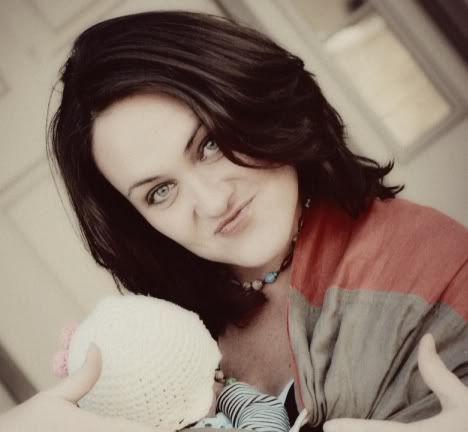 Well good morning to you, and you and you over there in the cubicle at work. Welcome back to another Thursday Three here at Shrinking Jeans where we list three things to chat about. Yes, we want you to join in on the list of three too! After all, it is all about sharing, right?
This past […]
[ More ]

Winners have been chosen! See the comments below to see if you're one of the lucky 5!!
Ahhhhh. Bob Greene. I can see why Oprah loves him so much. He's cute, has a nice, encouraging voice, doesn't cuss or yell at you, he's thorough in his instructions, AND he looks good in a tight t-shirt. Plus, […]
[ More ]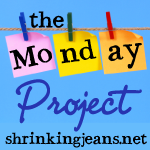 Yay! It's Friday!! That must mean it's time for something that rhymes with the Schmonday Schmoject! Yep, it's the MONDAY PROJECT! This Monday Project was special, it was supposed to be a little funner than last week's (which totally made me cry by the way, and I mean reading about everyone's journey!)
This week, we worked […]
[ More ]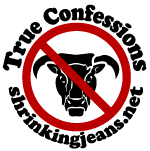 Good morning, sweet shrinkers! Welcome to True Confessions Tuesday, a place where we share all our dirty secrets and check our bull at the door. I, myself, am having a mini-pity party here. And my confessions are as follows:
1. We got hit with the most evil stomach flu ever (as I have already reported — it aided in […]
[ More ]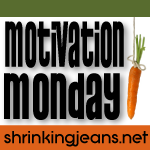 Since I was a little kid, I've always been negative realistic.  In some ways, it serves me well, but largely it sets me up for failure.  After all, it's a defense mechanism. Expect the worst, but hope for the best – and by anticipating bad things, I may not try as hard to meet my […]
[ More ]

It's hard to fight an enemy who has outposts in your head.  ~Sally Kempton, Esquire, 1970 "You think too much."
That's what I heard from my husband last night while I was talking to him about my fitness woes.  I was telling him that I have all these lofty fitness goals but I condemn myself to failure […]
[ More ]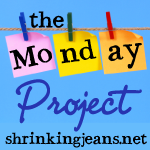 It's here! It's here! (And yes, I've heard you all calling it "Homework" behind my back! ) OK, fine, I guess it is. But I really want us to think of this as yet another tool to arm ourselves in our constant battle with "Can I?"
Because yes we can! I love punctuation because it makes the […]
[ More ]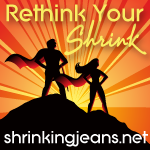 We're having some fun on this sort of potpourri Thursday Three . (Look at that, I rhymed!) Today I give you three fun facts/slash/embarrassing moments.
1. I would like to state for the record that for week one of our Rethink Your Shrink challenge, we as a group lost about 75 pounds! Wait. I'm going to say […]
[ More ]
So, better late than never… Thanks to the lovely Nancy, we realized we FORGOT to announce the winners of the Globetrotter AND the Shrink-a-Versary Challenges. Yipes. I'm blaming the holidays. Yup. That's it. So, without further ado, your winners:
Shrink-a-Versary Biggest Shrinker: Renee a.k.a. CutieBootyCakes! She lost a grand total of 11 pounds – whoa, girl! You rocked it. […]
[ More ]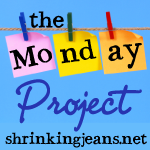 Welcome to the first Monday Project of the Rethink Your Shrink challenge: Project "Me"!
This week, we're going to take a look back and ask ourselves some questions, about ourselves. On account of the whole rethinking our shrinking and all. We're going to dive right on in and figure out why we're here right now and […]
[ More ]
Featured
Choose You

I'm guilty of it and you probably are too. Most women are, in fact.
What am I talking about? Putting your own health on the back burner to attend to the needs (and, let's face it, WANTS) of others. There's laundry to wash, fold, and put away. Breakfasts, lunches and dinners to prepare. Sporting events, rehearsals, […]
New Recipe
Makeover Nacho Beef Bake

Isn't this a pretty picture?!  I took it : ). Simple, easy, and delicious.  What more could you want from a recipe?  I found it difficult to control myself at one serving- that is how yummy this one is.  Consider yourself forewarned! Makeover Nacho Beef Bake (online here)

Ingredients

1-1/2 pounds lean ground beef (90% lean)
1 can (15 ounces) […]
Most Popular