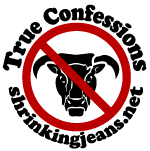 From the 12th-17th I was driving thousands of miles with my family and enjoying one of my favorite places – Colorado! From the 19th-21st I was on the east coast in Maryland taking part in Fitbloggin'. You would think this would be a recipe for disaster and normally, you would be right. But this time has been a bit different.
I have ate in moderation. I haven't made the best food choices because hello, they aren't always available (think beef jerky, m&ms), but I did not eat a BUNCH of them! I may have consumed mass quantities of alcohol, however.
I exercised. Not quite as much as I would have liked, but exercise was part of my vacations. I did 4 miles with my friend Nora in Colorado. I did a mile at Fitbloggin', but I actually RAN pretty much the whole thing. I haven't ever ran more than a few minutes at a time. I.RAN. Do you know how amazing that felt? After feeling like I was going to vomit or die, I mean.
I am excited for tomorrow's weigh-in. Yes, that's right. Bring it.
Post Footer automatically generated by Add Post Footer Plugin for wordpress.