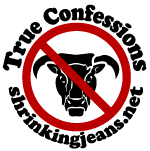 I have a feeling this is not going to be very pretty, folks.
I was doing alright… and then Saturday came. My husband (who hasn't been home in a month!) got to come home from work for a few days and he does the cooking (woot!) when he is home.
Saturday night:  homemade pizza. Sure, he makes me my own special portion of pizza loaded with onions, portabella mushrooms, and green peppers, but there is still the crust and the cheese!
Sunday:  Playoff day. Not good. Homemade subs. Popcorn (with butter). Candy. You get the picture.
And then, to top it all off, I had a Drumstick last night. Not chicken, the awful(ly yummy) ice cream variety.
On the plus side… he and I played racquetball at the gym yesterday. Wonderful exercise. I came away with a contact-injury again.
I signed up for FitBloggin… now I just need to figure out a way to get to Baltimore!!
How was your week? Do Confess.
Post Footer automatically generated by Add Post Footer Plugin for wordpress.