If you're new to the Sisterhood, you're probably asking, what's a Tworkout?
Well, a Tworkout is a kick ass workout that April and I like to yell at you through your computer, via Twitter. We tweet a last chance tworkout from @shrinkingjeans every Tuesday night, during the Biggest Loser. That's 8 pm Central Time, and again […]
[ More ]

What is that you say?  The answer is no, we aren't skipping a weigh-in just because we are in between challenges! Go ahead, head over to your scale, step on it, peek at your weight, and then come back here and tell us all about it.  Yes, really. Today really is a weigh-in day.
How did you do?  Fantabulous or craptastic?! I was […]
[ More ]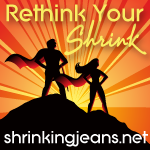 Oh dear shrinkers, rethinkers, and rethinking your shrinkers! I cannot fathom the fact that this is the last weigh-in of the Rethink Your Shrink Challenge! Don't pay attention to the sister behind the computer who's getting all teary-eyed!
(Um, edited to note: Boy, we can't get anything past you guys, huh!? No, you're not crazy. Apparently we […]
[ More ]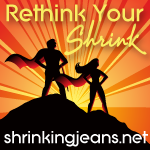 Wait. What's that say? Week FOUR?? Have we been really going at it for a month already? We are over halfway done with our Rethink Your Shrink challenge. You have joined the revolution. You have looked into your past and looked into yourself. You have contemplated what works for you and what doesn't work for […]
[ More ]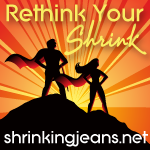 It's Wednesday, folks!  What are you waiting for??  Go jump on the scale! How did Week 2 go for you?? Did you get what you expected? Do your results match what you put into this week?  Tell us all about how it went!! Leave your results and/or blog post link in our comments.
If you are just […]
[ More ]

I know what you're saying….WHAT?!?!  A weigh-in the week of Christmas?!  Can't we have a week off? No.
Look, I know that we are ALL busy making sure everything is in order for when you get that visit from Santa, I have been, too!  (Yes, I still believe in Santa.  Don't judge.)  But even though we're all […]
[ More ]
It's true! Today is the final weigh-in for our Shrink-a-Versary Extravaganza Challenge. First thing I want you to do is reach around and give yourself a pat on the back for sticking with the challenge through Thanksgiving and the beginning of the holiday season. WOW!
It's been 7 weeks, and hopefully you've had some great losses! […]
[ More ]
Alright, ladies and gent(s), it's Wednesday so you know what that means! Glee is on tonight! No wait, sorry.  That's not why we're here.  Silly me!  We're here to weigh in!!
Go jump on those scales and then come back and tell us how you did.  Do you have something to celebrate?  Did you have a major revelation?  […]
[ More ]
Good morning, Sisters and Brother! It is the Wednesday after a major (U.S.) food-centered holiday and, as I've read, there were also birthdays (Brian!) and children's birthdays and husband's birthdays going on this past weekend, and well, it's been an eating nightmare to many people this past week, to be perfectly honest.
How has it been for you? […]
[ More ]
Sound the alarms, it's weigh-in day!
Last week, Heather described my trek to the scale so perfectly in her weigh-in post that I laughed out loud as I took every step in the perfect way in which she described. Something about heading to the scale, looking at the numbers with our "scrunched up eyes", naked and after having already […]
[ More ]
You guys thought we forgot about weigh-in today, huh? Of course we didn't forget.  We just wanted to prolong it as long as possible.
So yeah, go ahead and do that favorite Wednesday morning (or afternoon or evening) thing that you like to do called WEIGH-IN.  The only time this is my favorite Wednesday thing to do […]
[ More ]
Week One of our Shrink-A-Versary Extravaganza challenge is dead and gone. How did you do? For those of you that celebrate Halloween, did you keep control of yourself around all that candy? I know I didn't. Halloween is evil. Especially with four kids and ALL THAT CANDY.
How are our EA Sports 5K challengers doing? Are […]
[ More ]

Hello fellow Shrinkers! Can you believe we're four weeks into the Shrink for Good Challenge? And on the final week of the EA Sports Active 30 Day Challenge? Man, time sure flies when you're having fun…or not (I'm having fun, I promise.  I just LOVE kick backs).
So, you know the drill. Hop on your trusty scale. […]
[ More ]

Another week down in the Shrink For Good Challenge! Are you keeping up with the goals you've set for yourself?  Are you seeing the results you hoped for? If you are doing the EA Sports Active Challenge, are you keeping up with your workouts?  Is the scale headed in the right direction?
Go jump on the scale, […]
[ More ]

Good morning Sisters and Brothers!  It's Weigh-In Wednesday!  Lots to talk about this week, so settle in!
First, today is the end of our 21 Day Challenge.  We challenged you to challenge yourselves to create healthy new habits for 21 days.  How did you do?  Did you create healthy new habits?  Will they stick?  Did you […]
[ More ]
Featured
Choose You

I'm guilty of it and you probably are too. Most women are, in fact.
What am I talking about? Putting your own health on the back burner to attend to the needs (and, let's face it, WANTS) of others. There's laundry to wash, fold, and put away. Breakfasts, lunches and dinners to prepare. Sporting events, rehearsals, […]
New Recipe
Makeover Nacho Beef Bake

Isn't this a pretty picture?!  I took it : ). Simple, easy, and delicious.  What more could you want from a recipe?  I found it difficult to control myself at one serving- that is how yummy this one is.  Consider yourself forewarned! Makeover Nacho Beef Bake (online here)

Ingredients

1-1/2 pounds lean ground beef (90% lean)
1 can (15 ounces) […]
Most Popular