September 15, 2010 By lisa
The last time that I officially weighed in was two weeks ago and I was sitting pretty at 168.6 (I think).
For today's first official Shrinkvivor Weigh-in, I am now sitting at a pretty….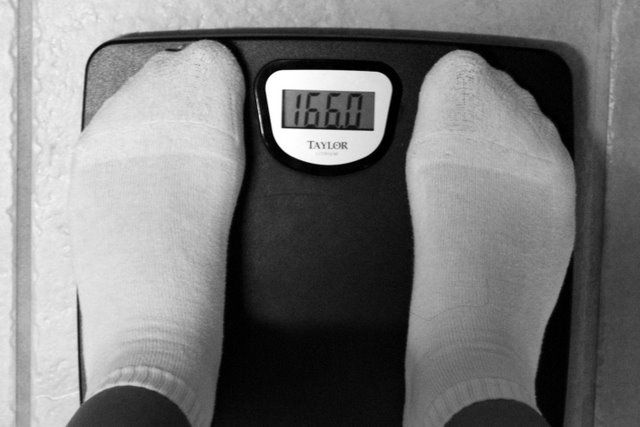 I have not been this low since I was exercising like crazy between babies #2 and # 3.  In fact, it's been over 3 years since I have seen a number this low thank-you oh stressful last few days that has led me to not eat.  My appetite is slowly coming back but the cravings are at bay for now.
I would like to say that I have some lofty plans to continue to lose weight, but I don't.  I'm too busy taking care of stuff at home and wondering when my wonky foot/ankle/heel will heal so that I can return to my half marathon training.  I think I might be good to run this weekend or Monday.  We'll see. 
Anyhoo, here's a shout-out to Tribe Brown- we're still working on a cool-ass name for our tribe.  Code Brown?  Nah.  Brown-ie Hottie McNotties?  Maybe.  Brown Busters?  lol.  I don't know!
September 1, 2010 By lisa
No change from last week but that is completely fine with me!  Here are my challenge deets:
Challenge Begin: 173 lbs
Challenge End: 168.6 lbs
Total Loss of 4.4 lbs- woot woot!
I am so stinkin' excited that I am still in the 160′s.  I know, I should be more confident that I could hold this patten but you know, sometimes the naysayers in my head get a hold of me.  Whatever.  In other news, I went shopping yesterday and was happily surprised when things I wanted to wear actually fit, and looked good.  Wanna check out my hip, new clothes?   
My half marathon training is in full swing and I still have so much joy for running.  I just wish the heat would cool off, then my running would b e even more enjoyable!
I hope all of you had a fantastic D&D30.
August 25, 2010 By lisa
I'll let the numbers speak for themselves.
Last week's weight:  171.4
This week's weight: 168.6
Loss of 2.8 freakin' pounds
Buh-Bye 170′s- hello 160′s!!!!  I don't have much more to say than that.  No lengthy post, no words of wisdom, just one super-happy Mama of 3 who is on her way down with her weight loss journey.
Woot woot!!!!!
August 18, 2010 By lisa
No loss this week.  In fact, a gain. Un-freakin'-believable.
Weight last week:  170.6 lbs
This week:  171.4 lbs
GAIN of 0.8 lbs
You see, I have been doing so well over the last week.  Exercising.  Making careful food choices.  Limiting the nighttime snacking.  Drinking TONS of water.  I am a chronic weigher, meaning I weigh myself every single day I just can't seem to shake that bad habit.  So, for the last 4 days, my scale has been giving me great news, as in I was well below the 170 mark (like 168.4 lbs happy).  I was so happy. 
The important word is "WAS".
Because yesterday, when I continued to see that "well below 170 number", I took it easy translation: I went freakin' nuts and ate things I would normally not eat and in quantities I normally don't eat.  Self restraint was non-existent yesterday.  Pasta who eats past the day before weigh-in…oh wait, I DO.  Chocolate chip cookie and a half, movie theater popcorn.
What the hell is wrong with me?  I had ZERO self control yesterday.  The worst was the movie popcorn though, laden with salt, eaten at night, right before bed.  I knew, I KNEW, that the salt would just sit in my body overnight, bloating me, tipping the scales the wrong way this morning.  Yet, I did not stop.
So this morning, when I stepped on the scale, I was NOT surprised by the results.  Even though I know that it is salt-bloat (because yes, I really did do well the other 6 days of the week), I am still mad at myself for sabotaging what should have been a GREAT weigh-in.  I was alternating from being mad at me and being even madder at me.
But then I read this post by our very own Brooke.  It resonated with me.  Cuz any of you that have read me for a while know that I trained for the San Diego 1/2 Marathon with Team Shrinking Jeans, injured my hip 5 weeks out from race day, and then spiraled down to a horrible, terrible mental mess trying to deal with the fact that I would not be running that race as I had intended.  I was stressed to the max, wondering if I would even be able to walk the darn thing.
My hair fell out, enough to give me a bald spot front and center of my hairline.
I gained 8 lbs overnight. 
I couldn't sleep more than 5-6 hrs a night.  
It sucked.  Extreme stress sucks. ALL because my mind could not accept what my body had to give me at that moment in time. 
With some rest, a step back, and a new attitude, things have turned around for me.  My hair is growing back, I have lost 6 of those 8 lbs, I am sleeping 7-8 hrs a night (and making sleep a priority) and I am back on the trail running again.  My attitude about my running and race days have changed.  I have changed. 
So while this gain royally annoys me so much, it is OK.  It is but a blip in my road map and will be quickly forgotten next week when I knock the weight loss out of the park.  I don't have to be the person who loses weight the fastest (I'm not), I just have to keep on track, or get back on track when I veer off course and put down the damn popcorn.
It is my overall goal that is most important- to be healthy, to enjoy life, to run around with my kids without getting out of breathe, to be proud of my accomplishments…..no matter how long it takes me.
August 11, 2010 By lisa
Weight at Challenge Start:  173
Weight last Wed:  172.4
Weight today:  170.6
Loss of 1.8 lbs
Woot, woot!!!!!  Since last Wednesday, I have ran a total of 7.25 miles and biked one mile.  I have done yoga twice and I do my hip exercises every day, although I have to say that the tworkout last night has made my wonky right hip sore again- it hasn't been sore all week.  That being said, if I am to participate in Tuesday evening tworkouts, after running Tuesday morning (Tuesdays are "run" days for me), then I am going to have modify the exercises for now.  I don't want to reinjure myself from doing something like a jump squat, kwim?
Anyhoo, I am over the moon that I am knocking on the door of the 160′s.  The last time I was in the 160′s was in April, right before I injured my hip and was knocked out from running for over 2 months.  Hopefully, next week, I will be firmly entrenched in the 160′s and continuing my weight journey DOWN.
August 4, 2010 By lisa
I am going to call this a drive-by post because it's going to be short and sweet.
I am visiting Christy.  Actually, I am packing up to had back to Austin today, which saddens me to no end.  When we visit, we aim for 4 nights because we roll like that but this visit was only 3 nights because of other obligation/social engagments we have back home.  Boo-Hiss.  However, we've already decided that we are going to squeeze in one visit before school starts and hopefully schedule a girl's weekend in the next month or two.  Yippee!
I only got to exercise once while I was here but it was pretty eye-opening heart-shaking for me.  At least I got that out of the way and the next time I do it, it will hopefully be easier.  So let's get to the weigh-in….
Start weight (Sun): 173 lbs
Today's weight (Wed) 172.4 lbs
Loss of 0.6lbs
It's a small loss but I will gladly accept it.  It's always a little more difficult to maintain (or lose) weight when away from home.  Oh yeah, I am part of the most awesome team- Exotic Ganstas- holla, holla!
July 28, 2010 By lisa
I started Weight Watchers last week.
I weighed 175 last Wednesday.
I weigh 172 today, for a loss of 3 lbs.  In one week.
This stuff works, I tell you.
I also have begun my half marathon training for the San Antonio Rock n Roll Half Marathon on November 14th.  I am a runner.  I am a runner.  I am a runner.  My BFF is joining me, so I am not doing this alone- support is SO very important.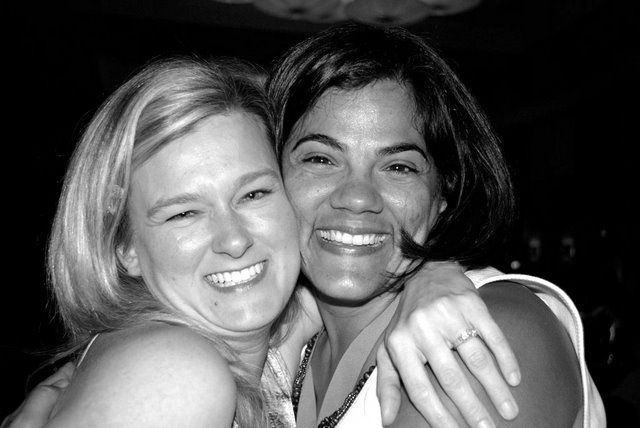 And since I am on the subject of Christy, did you guys know that we have known each other since 2004?  Way before Shrinking Jeans was around?  When both of us only had one child (they are two weeks apart in age and now she has 2 kids and I have 3)?  And that I am so excited that we have each other (and ALL of you!) to lean on for our weight loss/healthy living journey?  And to run half marathons together?  When we got together, we used to sit on our asses (as much as you can with young children) but now when we get together, we automatically build in time to exercise?  And plan healthy menus?  How awesome is that?
So yeah, I am counting points a la Weight Watchers, I am back in the gym lifting weights and back on the trail running and IT FEELS GOOD, SO VERY GOOD.
July 21, 2010 By lisa
I don't have much time as I am caring for my very sick, puke-y, crying toddler.
I weighed 174 lbs last week.
I weigh 175 lbs this week.
I am tired of being in the 170′s.
I'm ready to jump in with both feet.
I am ready to return to what has been successful for me in the past.
I am ready to be dedicated and disciplined.
I re-joined Weight Watchers Online today.
Starting right now, today, I am tracking my points.
Anyone else doing the Weight Watchers plan?
Gotta run- screaming toddler needs his mama.  Poor guy.
July 14, 2010 By lisa
This morning when I stepped on the scale, I got excited because I thought I had lost weight.  Then I left the house for the next 5 hours and I'm only now getting online to see what I weighed last week.  Ladies, I have not lost weight- I have gained weight.  What a slap in the face but at least I got to live in happy dream-land for 5 hours, right?!
Anyhoo, I only gained 0.2 lbs and I now sit at 174 lbs, which is exactly where I was 2 weeks ago.  I don't want to be in the 170′s anymore.  Back in April, I was sitting at 167 and I want to get back there and then lose some more.  I know that losing the weight is not a cakewalk (ha ha….cake. did someone say cake?), BUT damn yeah, I'm cussing…I really don't cuss in front of my kids, pinky swear promise this is HARD.  My current plan of only watching what I eat the two days prior to weigh-in is not working for me I can't stop laughing at my stupidity and actual honesty, lol.
So yeah, ya'll can jot down that piece of wisdom- you have to make healthy choices every day and not just two days of the week.  WHO KNEW?!
I have been thinking of re-joining Weight Watchers and being committed to the entire process and not just doing it half-heartedly.  I know it works- it just takes dedication and discipline.  I have an inner H-A-W-T-T-I-E that is dying to burst out of the fat covering her, you know?
I'm still thinking about it- am I in the "right" place to do WW the way WW can and should be done?  If I do it with my "head in the game", then I am 100% positive that I will be successful, but the question is, AM I READY?
June 30, 2010 By lisa
Let's skip the formalities and jump to what you're really here for, MY WEIGHT!
Last week's weight:  175.4 lbs (ugh)
This week's weight: 174 lbs (yippee)
A loss of 1.6 lbs
Happy dance, happy dance, happy dance!
Although I'll be a whole lot happier when I say good-bye to the 170′s (again)!  Last week was my first time to weigh-in in quite some time and I vowed to weigh-in every week this Summer.  I am also leading the mini-challenges which is keeping me accountable to actually DOING the mini-challenges-HA!  This week, I have been focusing hard on what I am eating, journaling it, getting in my fruits and veggies and drinking tons of water.  
I've returned to going to the gym, A LOT.  I went four times last week, just getting back in to the groove of exercising.  I took a Body Kombat class for the first time (a mix of kickboxing and martial arts) and I took a Spin class.  I lifted weights, I rode the stationary cycle and I walked on the treadmill. 
I have my eyes on training for the San Antonio Rock n Roll Half Marathon on November 14th and possibly even doing this event (a beach run) on August 14th, both with Christy. 
Another thing I cannot stop thinking about is doing a triathlon.  The one I did back in February during the Sisterhood Olympics opened my eyes to the fun of mixing it up- swimming, biking and running.  I spend my evenings scouring the want ads for a used bike (OMG- who knew bikes could be so expensive?  Plus the gear- ack!  If money grew on trees, then I would get this bike.).  I spend a lot of time reading triathlon books and checking out various races and different websites.  I am "this close" to attending an "Austin triathlon training group seminar" to see if I can hook up with a local group for training. 
Thinking about tri'ing gives me excited butterflies in my stomach.  Not nervous-ness, not anxiety, not "can I do this"……nope, I have excitement and butterflies because I already know I CAN DO THIS. 
Even though my time for the 1/2 marathon in San Diego with Team Shrinking Jeans was not what I wanted it to be and even though I did it with a bum hip, completing it gave me something I could not get anywhere else- BELIEF IN MYSELF.  I KNOW I will finish whatever races I sign up for, of that, I am 100% certain.  I added to "the bank" once I crossed that finish line and my mental game is even stronger now.
I'm all over the board today, huh? 
So yeah, Summer 2010 is going to kick ass for me, I just know it.