How was your labor day weekend ?  I hope it was full of good (healthy) food and fun with family !
So get on the scale and weigh-in,  then blog your results and experiences with the Shrink for Good and EA Sports Challenges.  Then come back and  link to your post in the comments section.  If […]
[ More ]

I realize that I'm about to burst everyone's bubbles here, and I swear I'm not looking to get anyone down.  But there is a myth amongst us, and I cannot let it go any longer.  You need to know that what you have been told is incorrect, so that you can be better educated in […]
[ More ]

It's TMI Monday — er, True Confessions Monday, so here are mine and I'm gettin' a little deep here, so I'll show you mine if you show me yours, m'kay??? Here we go. 1. I made an entire meal for watching college football Saturday night using Weight Watchers recipes.
2. I didn't tell anyone. So, shhhhhh. But I was […]
[ More ]

When we put out the call for new contributors here at the Sisterhood, Rebecca from I Wanna to be a Domestic Goddess, emailed me immediately! We asked her to share her 'ah-HA! moment with us, and she certainly delivered. It never ceases to amaze me that so many of us have these moments in childhood […]
[ More ]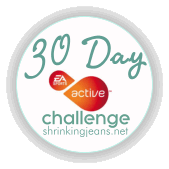 One of the winners from the EA Sports Active giveaway we did a few weeks ago is giving us her perspective on the 30 Day Challenge.  Please give a warm welcome to Sue from Loads of Pink! Sue- Loads of Pink Age 37
I've got three girls – hence the blog name Loads of Pink [laundry- that […]
[ More ]

I hail from a moderately sized city, nestled between Vancouver, B.C. and Seattle – Bellingham, Washington.
I lived there most of my life until my recent move to the Seattle area, and while I was in Bellingham, I became familiar with a fabulous company called Baker's Breakfast Cookies – now known as Erin Baker's Wholesome Baked […]
[ More ]

This recipe doesn't need much explaining!  It was ridiculously simple and easy and my children LOVED it, including the baby.  This one will become a staple in our house, that's for sure.  I made absolutely ZERO modifications because um, I didn't need to. Crock Pot Chicken Stroganoff
(I found this on a Weight Watchers Community Message […]
[ More ]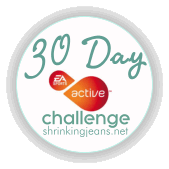 I'll keep this short and sweet…… Are you guys still keeping up with the EA 30 Day Challenge?  How's it going for you?  Are you enjoying all the leg exercises from today?  Doesn't that burn feel gooooooood?  Maybe not.
I have an observation or two:
I am working out on the intensity level.  The first half of […]
[ More ]

Every single one of us has more than we should on our plate. Most of us are parents. Some of stay home, and some of us work outside the home. Each of these factors creates a specific set of challenges when it comes to mapping out our daily schedules. Here's my story:
I have 2 children and […]
[ More ]

This recipe rocks the house and makes an excellent side dish.
Food that tastes fresh, new and exciting is so enticing to me and just warms my heart. I had no idea that orzo could be so expensive so I made an executive decision at the grocery story to part ways with orzo and substituted basmati rice […]
[ More ]
First I want to say if you need any workout gear, there is a 20% discount going on over at Sports Basement!  They rock for giving these awesome shorts away! And yes, I have partaken in the discount myself, I went over there myself and bought my very first tri-suit which is an entire suit […]
[ More ]

I've started and stopped this post a few times now. I don't often talk about what I'm getting ready to tell you. And I'm not sure many people would understand this, and I'm not here to make you understand. But just to tell you how life can be for me.
A while back, I was very […]
[ More ]
The winner of the autographed magazine + a year's subscription to WW magazine is:  Annette!! Congratulations, Annette! Please email me with your contact info and your prizes will be on their way!
I know, I know, I have been keeping all of you in suspense for like a MONTH now! FINALLY, I can spill the […]
[ More ]

  Isn't that picture pretty?  Does it make you want to eat a salad right now?    Go ahead, your taste buds will thank you. Strawberry-Apple Salad (Weight Watchers Five Ingredient 15 Minute Cookbook – POINTS value: 2)
Ingredients:
1 (5 ounce) package spring mix salad greens with herbs 2 cups sliced strawberries 1 1/2 cups chopped Granny Smith apple 1/4 sliced almonds, toasted
Apple […]
[ More ]
The blogroll has been WIPED CLEAN. That's right! It was so… 2008! We are starting fresh!
If you are an active participant in the new challenges, Shrink For Good and/or our EA Sports Active challenge, and are sporting one of our sweet buttons in your sidebar, leave a comment below with your name (or what you prefer […]
[ More ]