.!.
When I cook, I try to substitute lower fat options where I can.  Some I win (meaning the taste of the food is not affected, in my opinion) and some I lose (meaning the taste of the dish is affected and I should have stuck with what the recipe called for).  As ya'll already know, […]
[ More ]
I recently came across Devin Alexander on Twitter and asked if she would be willing to share some of her recipes with all of us here at Shrinking Jeans! She agreed and I am so excited to be able to share these delicious, quick, and EASY recipes with all of you over the next few […]
[ More ]

Marci Lall is a nationally recognized weight loss and body sculpting specialist, certified personal trainer (CPT) and the author of the internationally popular e-book – The Rebound Workout. Go to TheYoYoDietReport.com to claim your FREE "Permanent Weight Loss Starter Kit".
When Marci offered to put together a lower-body workout video for Shrinking Jeans, we were more […]
[ More ]
The winner of the bracelet donated by Vickie, as well as a copy of Lite 'N' Up: Laugh Yourself Skinny from Plain White Press is…. JEN from Prairie Knitwit Cooks and Shrinks!!!
Congratulations, Jen! Email me ([email protected]) with your contact info and we will get your prizes out right away!
[ More ]
Are you sitting on the edge of your seat waiting for this week's results? Well here they are!!! (These percentages are based on the overall loss so far during this challenge.)
As you can see, Team LIME is still in the lead, but their margin is slipping! Team SAGE is hot on their trails this week. This […]
[ More ]

People will sometimes tell me that I have amazing willpower. (Forget that you read about all of the carrot cake I ate over the weekend, k?  Thanks.)  You want to know a secret?  It's not true.  In fact, I almost believe that willpower doesn't exist.
If you place any one of my favorite foods in front […]
[ More ]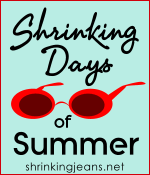 Hello Men and Women! How are you doing? Are you experiencing some shrinkage? We sure hope so!
Let's take care of business… Get your butt on your scale, remember the number, go to your blog and write about that and how it makes you feel, come back here and leave your permalink. Or if you would […]
[ More ]
We are coming upon the end of Week TWO of our Shrinking Days of Summer challenge! Yay!
This week, we are giving away a bracelet donated by Vickie, as well as a copy of Lite 'N' Up: Laugh Yourself Skinny, where you can journal your daily eating habits and laugh while you are doing it!
A big […]
[ More ]

Do you remember the day that you found the Sisterhood?  Of course you do!  What I remember most is getting the warmest of welcomes.  I never expected it, but I loved every single bit of it and every single comment I received from each Sister.
That's why I get so excited to see new members join […]
[ More ]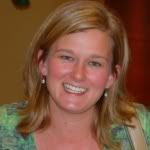 Although I'm a work at home mom now, I had a corporate job for 8 years, complete with the cubicle farm, pipelines, spreadsheets, and status meetings. Each and every day the all important "What's for Lunch" email would circulate between me and my co-workers. It went something like this:
Does anyone want to get out of […]
[ More ]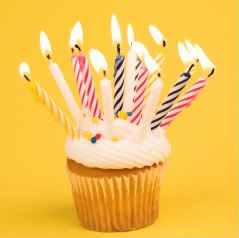 Today is a very special day for our very own April!! It's her 31st birthday. HOOORAY for getting older, right? Actually, April is very excited about a brand new year, and really so am I. I met April in January while we were hanging out on Twitter and we've been fast friends ever since. Heck, […]
[ More ]

Guess what?!  We have another Sister Spotlight for you!!  Drumroll please…….
SISTER SPOTLIGHT FOR SHOWING ROCK STAR SISTER SUPPORT
Christie O. @ Baby Tea Leaves Nominated by:  Tirah @ Shepdogg;  One P Double G
We all need support in our lives whether it be during times that are hard or in our weight loss journeys.  Every now and then, […]
[ More ]

I know alot of us are stay at home moms, and that can only mean one thing! Our kids are out of school for the summer and we have no idea how we're going to fill the waking hours, muchless find time for us to exercise. Am I right, or am I right?
I've come up […]
[ More ]
Time to announce the winners from yesterday's weigh-in post! Thank you again to our sponsors, our giveaways would not be possible without you!
The winner of this notebook from Barb's Etsy shop is Sue from Loads of Pink!
And the winner of Lite 'N' Up: Laugh Yourself Skinny from Plain White Press is Ann from She's Gonna […]
[ More ]
As you can see, TEAM LIME is is our Biggest Shrinking Team this week, by leaps and bounds! Let's all give these girls a pat on the back, they deserve it!! Erin P. Nancy W. Kristin K. Tara A. Margie D. Vickie L. We are so proud of you ladies! A few things I wanted to mention…
**From now on, we are going to […]
[ More ]