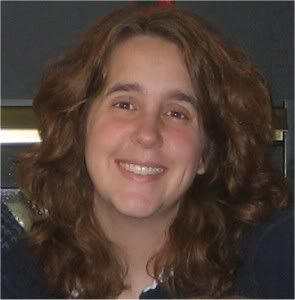 One of my biggest issues is exercise.  I'm not an active person, I never really have been.  I make an effort, but I just really don't like to exercise. Go, me!
Realizing that I need to do SOMETHING, I wear a pedometer every day.  It really is motivating to see exactly how many steps I am taking […]
[ More ]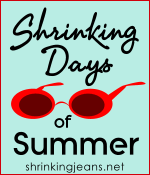 Happy Weigh-In Wednesday everyone!!  How are all of our lovely teams doing? Can you believe how quickly time flies?  Week #1 is over and done.  So, how did you do?  You know we want to know!
Are you having fun with your teams?  Are you getting to know each other?  I hope so!!  This is why […]
[ More ]
We are almost finished with Week One of our Shrinking Days of Summer challenge! Woo-hoo! This week, we have TWO awesome sponsors who are donating prizes!
First, Barb is offering this super-cute journal/notebook from her Etsy shop.
And second, Plain White Press is giving away a copy of Lite 'N' Up: Laugh Yourself Skinny, where you can journal […]
[ More ]

Jumping rope is one of the most simple, inexpensive, most effective ways to get a work out in.
Don't believe me?  Well, did you know that you can burn up to 1000 calories in an hour just by jumping rope?  That not only is it a fantastic cardio work out, but it's also a total body […]
[ More ]

Day in and day out, Melissa, April, Lisa and I work hard to bring you new information, exciting challenges, delicious recipes, fitness facts, and real life stories about our own weight losses. We do it all because we love each and every one of you so much! You are our extended family, and every person […]
[ More ]

Do you like to cook?  Or maybe not? I love to cook and I am blessed to write for Mom Central's food blog.  Sometimes I post healthy, good for you recipes that I have tried and reviewed and sometimes I write reviews on recipes that are terrible for you, but oh so yummy!
I spend a lot […]
[ More ]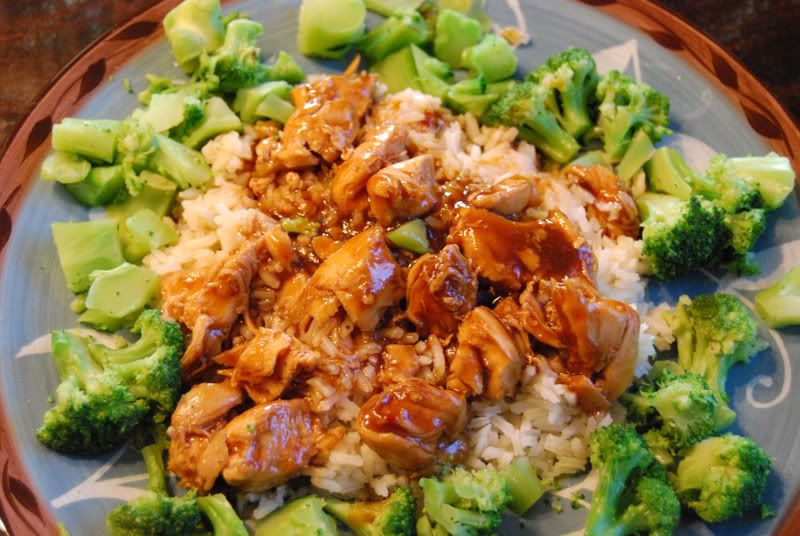 I found this recipe on the Weight Watchers website.  You can do no wrong with this one- go make it now.
General Tsao's Chicken
Ingredients:
3/4 cups canned chicken broth, reduced-sodium 1 1/2 tbsp cornstarch 2 tbsp sugar 2 tbsp low-sodium soy sauce 1tbsp white wine vinegar 1/2 tp ground ginger 2 tsp peanut oil 2 medium scallions, chopped 2 medium garlic cloves, minced
1/2 tsp red […]
[ More ]
One of my favorite workout clothing companies, BornFit, is the featured giveaway today for one of my favorite magazines, Women's Health!! You can enter to win BornFit's Sunlight Tee and Wilder Skort. Go check it out and enter! For more information, click here.
[ More ]
It's that time of year again girls and boys… you know, the time when Christy and I decide we must organize the site. I sure wish that happened with my house! Take a look at the blogroll. If you are an active member, make sure you have a button on your sidebar, leave a quick […]
[ More ]

I know we have tons of runners in the Sisterhood, and even more wanna-be runners (like myself!), and we are all capable of walking. There is no better motivation than participating in an event for a good cause! Everywhere you look, you can find 5Ks, 10Ks, half marathons, and even marathons and they are often […]
[ More ]

A Sister Spotlight is an award given to a Sister (or Brother) who has been recognized by another Sister (or Brother) for doing something excellent. A Spotlight can be given for anything from being a Rock Star Sister to giving the Most Awesome Comment Ever. Also, Spotlights are a surprise […]
[ More ]

A few of us Sisters (Lisa, Christy, and April) are confirmed to attend Blogher 2009, in Chicago, July 24-25. Are any of you going? If so, we just might need to arrange a Shrinking Jeans Sister meet-up of some kind. We could meet up in the bar, at a restuarant, or how about the hotel gym?!!!!!
Oh, how […]
[ More ]
Hello to all  you lovely ladies and handsome gentlemen! We at the Sisterhood are SO pleased to bring  you an exciting new challenge – The Shrinking Days of Summer! We're always looking for ways to make things better, improved, and more exciting. This challenge is laced with fun and excitement! Do you think we're EXCITED?!!!
This […]
[ More ]
1. I am craving every kind of sweet, terribly bad for you food there is. 2. This could only mean one thing…that pesky monthly visitor is close. 3.  Don't get me wrong, I like sweets, but I don't have a big sweet tooth EXCEPT during this time of the month.
4. Unless it's carrot cake.  Then all bets […]
[ More ]
It's not too late to sign up for a team for the Challenge that starts on Wednesday!!
Email me ASAP at [email protected]!
[ More ]