Today was my first day of Boot Camp. I had no idea I would be doing this Boot Camp thing. Heck, I really didn't know what Boot Camp was. Sure, I've heard people talk about it on Twitter and blogs, but I'd never really thought much of it since I didn't have access to any such program.
Until now.
One of my son's classmates' mom is a Personal Trainer. She moved out to the middle of nowhere, and had pretty much retired from her Personal Training job, until she realized she missed it. Then she devised this diabolical plan to whip the women of the Divide School into shape, and here we are.
She will meet with us on M-W-F at the school, and it started today. She gave us a run-down of the program, took our measurements, and laughed manically as she told he how she was going to torture us. Okay, so I made that last part up, but I could see it in her eyes. I know what she's planning, and I know that she can't promise the results she did without putting us through the ringer. We also got a sampling of her method, called "Burst Training." It's basically 1-2 minutes of doing a move as intensely as you can handle – pushing yourself beyond your limits – with a 2-4 rest period between moves.
Here are my "Before Wende Whips My Ass Into Shape" photos: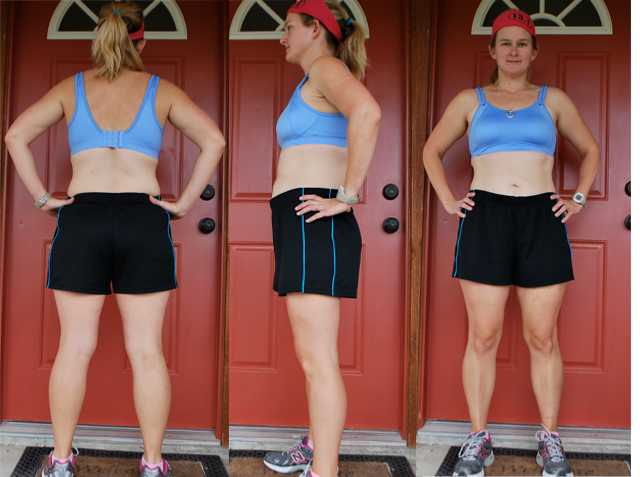 Here are my before stats:
Height: 5'3″
Weight: 138.6
Body Fat: 32.6%
Shoulders: 40″
Chest: 35″
Breast: 36 3/4″
Bicep: 11 1/4″
Waist (at belly button): 32 1/2″
Hips: 37 3/4″
Thigh (6″ from knee): 19 1/2″
Thigh (9″ from knee): 22 1/2″
Calf: 14 1/2″
Push-up Test (modified): 30 (this was as many as I could do without stopping)
Crunch Test: 50 in 60 seconds
So over the next 12 weeks, she'll put us through "Burst Training." I'll be doing it on Wednesdays and Fridays, and she'll give me homework since she won't be able to torture me in person on Mondays. In addition to this Boot Camp, I'll also be training to run the San Antonio Rock N Roll 1/2 Marathon in November.
It seems my workout schedule has gotten very full all of a sudden. Hopefully this means I'll be losing inches and pounds and getting myself into the best shape of my life. I do turn 35 on September 25th, and nothing would make me happier than to do it in the best shape of my life.
I'll be chronicling my journey through Boot Camp here, so be sure to check back. Sometime this week I'll have a very specific outline of my goals, and I can't wait to share them with you!
Wish me luck!