August 24, 2011 By thea
Goals? What goals? Did I make goals?
Wait. What? I did make goals?
Well, crap.
I've kind of let the goals go by the wayside. Which might explain why I've been gaining weight since the first week of this challenge. I'm technically a non-loser, but  seem to be confused because I've turned that from "not trying to lose" into "actually gaining".
I'm disappointed. But not discouraged. I know why I'm gaining. It's like my mind, will power, and better judgement kind of checked out over the summer.
But I'm going to follow through with the mini-challenge this week and finish out this challenge with a bang. I'm going to put a one-week goal out there that I will be at 158 or below by next Wednesday. That'll be a two pound loss. While that won't put me quite back into my healthy range of 153-157, it'll put me closer than I am now.
And just to refresh your (and my) memory, here's the goals I set out for this challenge:
Dessert only once a week
No snacking after 9pm
Complete 7 out of 8 4 out of 5 cardio workouts a week – I'm amending this one because my training schedule doesn't have as many workouts any more.
Follow Boot Camp plan Get in 3 strength sessions a week – Again, another amendment since I never really did the boot camp plan.
August 3, 2011 By thea
While I'm still carrying around the same attitude about summer as I had last week, I think it's safe to say that I'm in a bit of a slump.
While I did lose a bit of weight this week, I'm still in a number range I don't want to be in.
My ice cream/shake/dessert consumption has been off the charts.
My new found desire to track my food so I can properly fuel my body for triathlons has had a head on collision with my age old desire to not care about crap like that.
My cardio sessions have been cut way, way down out of pure laziness and lack of oomph.
My weight/resistance training has…well…I never really had that so I guess you can't miss what you've never done.
My inner "I DON'T WANNA!!" is definitely rearing her ugly little head.
I'm going to try to knock her out this week. She's quite the annoying one.
July 27, 2011 By thea
I'll be the first to admit, I haven't been very faithful to my goals and to any kind of healthy eating this summer.
Which why it isn't too surprising that I've gained 5 pounds in the last month or so. That dreaded 160 is back on the scale.
But you know what? I'm cool with it. I've really been enjoying my summer. And I know that the weight will come off.  I just need to buckle down and stop the slippery slope. I'll get back to where I want to be. I'm confident of that.
About the only goal I've kept up with is the eating after 9pm. I seemed to have kicked that one to the curb, which pleases me greatly.
We were gone on vacation last week and there was a lot of desserts. Like, every day. But they were really good, and I don't regret it at all. Also, since we were gone, I didn't get a few of my training swims in, but I did pretty well with my biking and running. I completed a tri on Sunday, the 24th, and I was able to take 11 minutes off my previous time so I must be something right, right??
July 13, 2011 By thea
Summer is kicking my butt, guys. Last week in particular was pretty rough food wise. Based on my confessions yesterday, it's no surprise that the scale showed a gain this week.
I'm a good two pounds out of my goal range, but I'm not discouraged. It's just time to get back to the program…do what I know works, eat what I know fuels me, and relax about the whole thing. My stomach has not been happy with me lately, and I can't blame it.
I started back to food tracking several weeks ago, but I got away from it last week. I'm not coming at it from a weight loss perspective, but rather a "fuel my body for insanely long workouts" perspective. Sports nutrition has been on my mind a lot lately.
Time to work the plan, yo.
Despite my horrible eating last week, I still pretty much rocked my goals!
Dessert only once a week – I think I had dessert twice, maybe 3 times. Always ice cream, but pretty sensible portions. Let's just pretend I imagined the caramel and hot fudge, though, m'kay?
No snacking after 9pm – Actually, I nailed this every night.
Complete 7 out of 8 cardio workouts a week – Getting stuff in while away last week proved a little hard. I was able to get 5 of my workouts in. I think I did something every single day.
Follow Boot Camp plan – This one has definitely gone by the wayside. Time is just too much of an issue these days.
June 22, 2011 By thea
I always consider the first week of a new challenge almost like the trial run. A few days in and I forget what goals I set and then I have to look back and then there's always that unplanned whatever that throws me for a loop.
Did I do 100% on my goals? No.
Did I gain weight? Yes. (But seriously? So what. I'm out of my weight range for the first time since FEBRUARY. That's kick ass, yo.)
Could it have been worse? Always. It could always, always be worse.
Dessert only once a week – I only had two big desserts this week. We went out for ice cream once after dinner and I had a shake when we went out to eat last night.
No snacking after 9pm – I never did put the gum on the end table, but I managed to only have a late snack once last week. And really, the only reason I did it was because I realized very late that I had only eaten 1300 calories for the days. That's way low. It may sound like justification, but it's worth breaking one goal to not starve.
Complete 7 out of 8 cardio workouts a week – I got 5 1/2 of my training workouts this week. Pretty darn good…it's getting a little harder to finagle my time with the kids around.
Follow Boot Camp plan – I was able to get it done on Monday…in my own way. I didn't do it straight thru without breaks the way it was designed, but I did it in short little bursts while I was getting dinner ready. This is going to be a tough one. Getting one cardio session in a day is hard enough. Getting a 2nd workout in might just kill me. I'm not going to change this goal, but it is admittedly the lowest on the priority list.
June 15, 2011 By thea
Time for a new challenge!!
Now that I am a Non-Loser (I love that I get to type that), I haven't really done a lot of the team challenges because I feel like I will drag everyone else down. But I decided to give it a whirl this time around, because I think I'm going to need a little extra push for the Boot Camp portion of the festivities.
I am very excited to be on Team 27 with Bethany, Zelma, Sarah, and Ryan.
I weighed in this morning within my healthy weight range of 153-157 pounds. That puts me within range for 18 out of the last 24 weeks of 2011. WOOHOO!!
So, goals for this challenge. I'm a big believer in goals…
Dessert only once a week – Whether at home or at a restaurant, I can only have a real, true dessert once a week. A piece of candy every day after dinner is o.k. A huge ice cream sundae every day after dinner is not.
No snacking after 9pm – I intend to keep a pack of game on the end table so that when I feel a craving hit, I can pop a piece of gum in.
Complete 7 out of 8 cardio workouts a week – I would be doing pretty damn good if I were able to get this done. I have a tendency to fall down the slippery slope of missing one day, and then two, and then…
Follow Boot Camp plan – I'll be revising this as more information comes in about the boot camp. But right now, I plan on doing as much as I can.
So there you have it! Time to start putting that plan into action!
March 16, 2010 By thea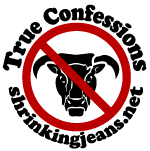 I was thinking that I was actually doing pretty good this past week.
And then I got my Daily Mile workout report on my e-mail.  And it reminded me that I didn't log a single workout last week.
I guess there's that.
But I started anew with my 10k training program this morning.  I went to the gym and found the weight machines I needed and then discovered some long lost muscles.
Who woulda thunk that my calves would be so weak?
And then there's the dessert.  There's some leftover Valentine's Day candy that has been calling my name from his place of honor in the middle of the counter.  And the last of the Girl Scout cookies that have been around so long.
But they're going to be around a little while longer.  For this week's Monday Project, I'm giving up candy/dessert for a week.
Which I will start today because I had already eaten cookies yesterday before I read the post about the Monday Project.
The end.
January 26, 2010 By thea
I spent last week at Disney World, folks, so pull up a chair.  This list is kind of long.
I only ran one day, and I didn't run a full 3 miles.  I just couldn't do it.  I wimped out on running on Wednesday and it was pouring down rain on Friday morning. Running=fail.
The meal plan we signed up for included dessert.  Twice a day.  And I had dessert. Twice a day. For a week. I lost count of how many pieces of carrot cake I had.  With cream cheese icing. Yum.
Water?  What water? Well, I guess I didn't do that bad, but nowhere near the 96 oz. I usually have during the day.  I think I got about 36 a day in.
I did mange to get all my push ups done, which is a bonus.
I tried to avoid the french fries, but I didn't always succeed. I think I had french fries a total of 4 times last week.
And then there was the pizza.
I hope that all of this will be countered by the fact that I walked approximately 452,000 miles a day. Those parks are BIG!
I tried to weigh myself on Wednesday at a scale at the park.  I hope there were no cameras on me, because the scale ended up being fake.  I even had my own camera ready to take a picture of the number so I could prove to all of you that I weighed in.
So, I guess I didn't really weigh in…
I hope the scale will be kind to me on Wednesday.
How about you folks? What do you have to confess??
December 14, 2009 By thea
I haven't confessed my sins in a while, so now's the time.  There's only 8 minutes left in this day so I better get crackin'.  Make that 7 minutes.
I haven't been logging my miles.  I know there's no way I could even come CLOSE to what others have been logging…but at least I could have tried.
I haven't counted a single WW point since…um…Thursday?  Toying with the idea of not counting but still doing WW.  Haven't decided yet.  Kind of tired of counting points.
I still stay up to late.
I made a dessert (technically, Dave made it, but whatever) this week that called for 2 sticks of butter and 4 eggs.  Basically it was a yellow cake with a chocolate chip cookie crust and then smothered in chocolate frosting.  I only had a teeeeensy bite…and I hated it. So, of course I had another teeensy bite.
I don't push myself enough on the treadmill.  I feel like I run too slow and quit too easily.
Despite all that, I feel as if I may just have a loss come Wednesday.
That's all I've got.  Can you remind me if I've forgotten something?
October 1, 2009 By thea
Today is October 1st and things must change.
I'm struggling.
No.  Wait.  That's not true.
strug·gle (\ˈstrə-gəl\)
1 : to make strenuous or violent efforts in the face of difficulties or opposition 2 : to proceed with difficulty or with great effort
Both of those definitions make use of the word "effort".
ef·fort (\ˈe-fərt, -ˌfȯrt\)
1: conscious exertion of power : hard work
2: a serious attempt
I have not been struggling.  You cannot have struggle without effort.  I have not been efforting.
I just made that up.
I have been doing this "weight loss" thing a long time.  And every once in a while I go through a rut.  The ruts seem to be coming much more often lately.  Which means I need to shake things up.  I need to come up with a new game plan.  There's lots of things that need to be addressed so I am going to tackle them one by one.
Am I still trying to lose or am I trying to maintain? It seems like a simple question, but I am stuck between the two mentalities.  Also, I need to adjust my points accordingly (23 points vs. 27 points)
Tracking – I have been tracking online, but I'm thinking that I need to keep a paper journal as well as the online tracking.  There are times when I can't get to the computer so hopefully keeping a paper journal in my purse will help me when I'm…say…staring at the candy selections in line at Target.
Breakfast – I eat over 1/3 of my points at breakfast.  My typical breakfast is 8.5 points.  That's a lot of points, but it's the healthiest meal I eat all day (oatmeal, oil, fruit, dairy, coffee).  I need to figure out how to reduce my breakfast, but still include oil.
Food choices – I eat a lot of carbs and processed foods. I don't really like to cook, so I tend to look for foods that can be heated up in the microwave or eaten straight out of the package. I like FAST. I need to prepare more food and eat a little "cleaner". I took advantage of Christy's links and ordered a few magazines to help me spruce things up.
Desserts  – Oh, desserts. I need to find low points desserts that actually satisfy me. And I REALLY need to stop ordering desserts every time we go out to eat.
Eating out  – I need to break up with chicken tenders and all things breaded. I've broken up with food before.  I know I can do it.  And I know, in time, I won't even miss the food. (Who ever would've thought I would not miss donuts?)
Activity – I have been so much better with working out, but I dismiss it much too easily.  I have discovered that I am much more motivated when I have a goal (signing up for a 5k or completing a 30 day challenge for example) but finding new goals is what I need to investigate more.
Rewards – I used to be so much better with this.  Heather's post today just reminded me that I need to set myself goals AND rewards.  I've moved my personal progress page here and this time I've included rewards.  In keeping with #2, I've also created a sticker chart for myself that I will hang right next to my son's sticker chart.  Everyone loves stickers!!
I need your feedback on this one!  What are your go to meals?  Do you have quick recipes you rely on for lunch?  How do you choose fitness goals??