March 16, 2010 By thea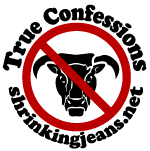 I was thinking that I was actually doing pretty good this past week.
And then I got my Daily Mile workout report on my e-mail.  And it reminded me that I didn't log a single workout last week.
I guess there's that.
But I started anew with my 10k training program this morning.  I went to the gym and found the weight machines I needed and then discovered some long lost muscles.
Who woulda thunk that my calves would be so weak?
And then there's the dessert.  There's some leftover Valentine's Day candy that has been calling my name from his place of honor in the middle of the counter.  And the last of the Girl Scout cookies that have been around so long.
But they're going to be around a little while longer.  For this week's Monday Project, I'm giving up candy/dessert for a week.
Which I will start today because I had already eaten cookies yesterday before I read the post about the Monday Project.
The end.