April 27, 2010 By thea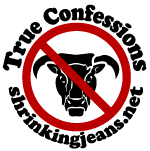 So I went a little crazy this weekend while I was visiting Christy and everyone in Texas. But it's all good! It felt good to let loose and I knew that I was going to let myself go a little bit. And oh my, it was so, SO good!
I love me some Mexican. Friday night's dinner was at a kick ass TexMex restaurant in San Antonio. OH my word, those cheese enchiladas were friggin' awesome. They only thing that made them taste better was the Mariachi band playing in my ear.
I'm not a big drinker, but I do enjoy a drink or two every once in a while. I don't even remember what they made me, but it was a lot more than I usually have. And I'm pretty sure fire was coming out of my ears after I had a German Chocolate Cake shot.
And then don't even get me started on the Cheeseburger I ordered…that quickly became a Bacon Cheeseburger. The waiter (who was all different kinds of hot) got my order wrong, and I didn't exactly argue with him. Well, technically, I did argue with him when he tried to take it away and I told him not to bother. Bacon makes everything taste better…
So those were my major transgressions this week.
Onward and upward, I say!
January 13, 2010 By thea
After getting a solid 7 hours of sleep last night (a rarity these days), I stepped on the scale and hesitantly looked down.
You see, I've had a less than stellar week.  I slipped up on two of my challenge goals and does anyone else think that Christmas candy rivals Halloween candy in terms of sheer volume?
I may have indulged in a Hershey Kiss.  Or 50.  Some may have been slathered in peanut butter.  I'll never tell.
I was pleasantly surprised to see that while I gained, I am still in my healthy range….so it's all good.
I have a bit of a challenge on the horizon.  My family leaves on Sunday afternoon for vacation.  We will be spending a week at Walt Disney World and I'm a little nervous.  I hope I don't let myself go too much.  The resort has a 1.5 mile running path so I'm bringing all of my running stuff.  I just need to actually…you know…RUN!