February 16, 2011 By Mel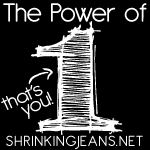 Ok, where exactly did the last week go?! I can't believe it's Wednesday again already! Since it is, that means it's time for my Week 7 update for the Power of One challenge. Can you believe there's only one week left in this challenge?!

Challenge Starting Weight: 274.0 Last Week's Weight: 263.2 Current Weight: 263.4 Weekly Loss: +0.2 Total Challenge Loss: 10.6
Well, as you can see, I'm up a tiny bit this week. I'm actually OK with it though. This is my birthday week and I've had a couple of meals out with friends to celebrate and even enjoyed some beignets at Brennan's Jazz Kitchen on Sunday. Given all that, I'm not gonna cry over a 0.2 pound gain. In fact, I consider it a bit of a victory to basically maintain this week! LOL
How was your week? Be sure to report in and link up on this week's challenge post.
Until next time …
Mel
February 9, 2011 By Mel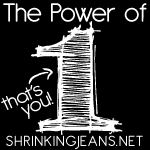 Wow, where does the time go? Can you believe we're already six weeks into this challenge? It's almost time for it to end already and it seems we just got started!
Yes, that's right, it's Wednesday, so that means it's time for my Week 6 update for the Power of One challenge here at the Sisterhood. Here we go:

Challenge Starting Weight: 274.0 Last Week's Weight: 264.8 Current Weight: 263.2 Weekly Loss: 1.6 Total Challenge Loss: 10.8
Woo Hoo!! I'm actually shocked I showed a loss this week. I gave in to a bit of emotional eating on Sunday night and I wasn't sure how it might affect the scale. On the positive side, I tracked everything I ate and somehow managed to squeeze it into my food plan between by daily PointsPlus target and my Weekly PointsPlus Allowance. Yay for Weight Watchers!!
Oh, and on another positive note, no more making you all look at my skanky toes. I made time to go get a manicure since my last update. LOL
How was your week? Be sure to report in and link up on this week's challenge post.
Until next time …
Mel
February 2, 2011 By Mel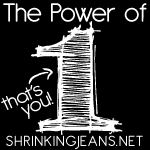 It's Wednesday, so that means it's time for my Week 5 update for the Power of One challenge here at the Sisterhood.  Can you believe we only have a couple of weeks left for this challenge?!  It's gone by so quickly it seems.
You will notice in my latest weigh in photo below that I have a new scale.  It's an EatSmart digital bathroom scale that I won in a blog giveaway from Patty.  For those of you wondering, yes, this is the same EatSmart scale that is being given away each week during this challenge here at the Sisterhood.  So, you get a little sneak peek at one.  If you're wondering how the compares weigh-wise to my old Tanita scale I've used up to this point, you can check out my January Recap post from yesterday on my personal blog.

Challenge Starting Weight: 274.0 Last Week's Weight: 266.0 Current Weight: 264.8 Weekly Loss: 1.2 Total Challenge Loss: 9.2
Woo Hoo!!  Another successful week for the Power of One challenge! (Note to self: make time to go get a pedicure already…jeez!)
I must confess that I had kind of forgotten what goals I had set for this challenge.   So, I went back to my original Power of One post to review them to see how I'm doing.
Weight Loss: I set a goal of 10 pounds.  Given I'm at 9.2 pounds now with two weeks left in the challenge, this is one goal I should definitely meet.
Exercise: I was doing really well with my 100 Days exercise challenge until my sciatica flared up over the weekend.  I haven't exercised since Friday due to the lower back pain.  I went to the doctor on Monday and she prescribed some anti-inflammatory and muscle relaxer medications and I'm finally starting to feel better.  She told me I could start walking or swimming again once I was feeling up to it, but to avoid anything like strength training, running, etc. for about 10 days as those activities put more stress on the back.  So, even though I've missed a few days due to the back issues, I still feel really good about how much more consistently I've been getting in exercise this year.  I'm averaging about 25 APs per week.
Take Care of Me: I've been doing pretty well at this one, too.  I've still got some work to do on getting enough sleep, but I have been setting aside some "me" time each week and I've definitely got my head in the game again!
How about you?  Do you remember your goals for this challenge?  Have you checked lately to see how you're doing on meeting them?  Leave me a comment and let me know.
Until next time …
Mel
January 29, 2011 By Mel
I just wanted to take a moment to post a quick hello to any of the folks from my local Weight Watchers meeting here in southern California who might be checking out the site.  I was thrilled when our leader AmyLynn gave me a minute to let you all know about this site and that I'm a Contributing Writer here now.  I hope you'll find lots of great information that you can use and that you'll return often!
If you would, please leave me a comment below to let me know you stopped by.  Thanks!
January 27, 2011 By Mel
As seen on Ben Does Life.
You don't have to pull the seatbelt as far to click it.
Let's be honest, chub-rub sucks.
Far fewer sweat stains.
Cartwheels are much easier (and graceful).
No more pulling the shirt out of fat rolls when you sit down. (don't act like you don't know what I'm talking about.)
People don't eyeball you questioningly when you take the last cookie/slice of pizza.
You can put your shoes on like a normal person. For those of you that have never been obese, trust us, it's really really hard to put shoes on.
No more fat-tax ($2 for XXL and up shirts)
No more pretending like you're wearing a T-shirt over your bathing suit to "prevent sunburns."
Floors don't creak as loudly. Sneaking up on people is much easier.
So true! LOL
January 26, 2011 By Mel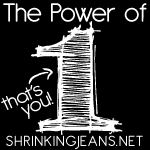 It's Wednesday, so that means it's time for my Week 4 update for the Power of One challenge here at the Sisterhood.  I went in to this weigh in a bit nervous because I'm experimenting with my food plan a bit this week.
In the past, I've rarely eaten any of my extra weekly PointsPlus allowance on Weight Watchers.  I pretty much stuck with my daily target.  If I was really hungry, then I would convert my activity points earned that day.  At my meeting last Saturday, AmyLynn (my awesome leader!) talked about taking advantage of those weekly extras and use them.  So, that's what I've been doing this week.  I've used about half of them this week, so I've been really nervous about possibly having a weight gain.  So, it was with much trepidation that I stepped on the scales today for my Power of One home weigh-in.
Challenge Starting Weight: 274.0 Last Week's Weight: 267.0 Current Weight: 266.0 Weekly Loss: 1.0
Total Challenge Loss: 8.0
Woo Hoo!!  I guess I've been worrying needlessly.  I'm down another pound this week.  That means I've dropped 8 pounds so far in the month of January.  It's been a looooong time since I've had that kind of monthly loss.  I'm really excited to see what February holds!
Until next time …
Mel
January 19, 2011 By Mel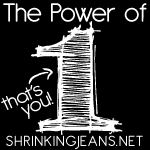 It's Wednesday, so that means it's time for my Week 3 update for the Power of One challenge here at the Sisterhood. I wasn't sure what to expect given I had such a tiny loss at Weight Watchers on Saturday, but the scale recovered and showed me another nice loss for this week's Power of One home weigh-in.
Challenge Starting Weight: 274.0 Last Week's Weight: 268.4 Current Weight: 267.0 Weekly Loss: 1.4
Total Challenge Loss: 7.0
I can't believe I've actually managed to lose 7 pounds in just three weeks! I guess there really is something to this whole tracking what I eat and exercising thing. Who knew?!
Until next time …
Mel
January 14, 2011 By Mel
First of all, I just want to express my sincere thanks to the editors and fellow writers here for inviting me into their fold. It's amazing just how much these people have come to mean to me and the multitude of ways they've impacted my life since I stumbled across and joined the site. To be able to give back to a community that has helped me so much is truly an honor.
I know many of you know me already. For those who don't, I thought I would do a bit of an introduction for my first blog post here at Shrinking Jeans. For those of you who do know me already, I hope you'll keep reading because you might learn some new things about me, too.
I'm a 40-something born & raised Tennessee girl who has been living in southern California for the past 14 years. I'm divorced with no children, but recently adopted my beautiful rescue kitty, Brandi. She's a tabby/Bengal mix and has definitely wormed her way irrevocably into my heart.

Click to biggify
I work full-time as an IT manager in the aerospace industry. I also made the decision in the fall of 2009 to go back to school to continue my education. I'm currently enrolled as a full-time student pursuing a degree in Information Technology before entering an MBA program with an emphasis on IT Management. When I'm not working or studying, I enjoy doing needlework (cross-stitching and needlepoint), reading on my Kindle, and playing Angry Birds or Bejeweled on my iPhone. In case you missed it, yeah, I'm a total geek and gadget freak. I would might sell my left arm for an iPad. Ok, maybe not, but it would be tempting!
I never really had that much of an issue with my weight until college. Since then though, I struggled with it most of my adult life. I kept telling myself that "someday" I would lose the weight, but you know how that goes. I had a massive wake-up call several years ago that jolted me into action. My mom (who is a Weight Watchers Lifetime member and Type II diabetic) had a heart attack at the age of 58!! She ended up having a quadruple bypass a few days later. When I called to ask my dad how the bypass surgery went, he let me know that he had just found out that he had also developed Type II diabetes. With two diabetic parents and a history of heart disease in my family, I knew I HAD to do something and do it fast!
I spent the next couple of weeks looking at various diet plan options, talking with my doctor, etc. I ultimately decided to go the same route my mom chose back in the early '70s. I went to Weight Watchers. Over the next 2.5 years, I went on to lose a total of 138 pounds. I was looking good and feeling even better! My self-confidence soared. My energy levels were off the charts. Life was good. Unfortunately, said life then dealt me a series of really bad turns. I learned my husband at the time had repeated cheated on me which resulted in a very long, drawn out, bitter divorce. Even though I had amazing support from my friends, I still gave in to some an assload (literally) of stress eating.
After a couple of very difficult years, I finally turned the corner and the divorce was final. I thought I could get myself back on track and lose the 25-30 pounds I gained during the divorce. Unfortunately, as is often the case, life once again had other plans. I began having severe back issues and learned that I had a degenerative spinal condition. I went on disability from work and spend several months pretty much confined to home other than going to doctor and/or physical therapy appointments. After many months of treatment and conditions getting worse instead of better, I finally underwent a multi-level spinal fusion with the hope of correcting my spinal issues. It worked! Within about 5 months following my surgery, I was back at work and life was good again. Unfortunately, the same could not be said for the scale. I put on nearly 60 pounds during that time which was on top of the 25-30 pounds I put on during the divorce.
Since then, I gave a lot of lip service about losing the weight again. I would even go and sign up at Weight Watchers every now and again, but would usually only last a few meetings before once again disappearing. I'm not sure why I couldn't wrap my head around wanting to lose weight again, but I couldn't.
Fast forward to August 2009. I was traipsing around the internet as I normally do when I stumbled across a link to Shrinking Jeans. I don't remember who posted the link, but I really wish I could remember so I could thank them! I spent a few hours that first day just going back and reading through old posts and seeing all of the amazing support people were giving one another through the comments (this was before The 'Hood came into existence). It wasn't long before I got brave enough to start leaving comments (I posted as TheDailyMel back then) and even signed up to join my first challenge. Before you know it, I had completed the inaugural Sisterhood Virtual 5k, won a couple of great giveaways, written a product review guest post, and even went on to be part of the original Team Shrinking Jeans.
Even though I was clearly a very active part of this site, I still wasn't committed to my journey. I would lose weight in each challenge only to put it right back on as soon as the challenge ended. It wasn't until the Shrinkvivor challenge that things really turned around for me. I went back and rejoined Weight Watchers for what I plan to be my LAST time! I started working on what was going on between my ears as well as controlling what was on my fork. It's been the key for me! I finally feel totally committed to doing whatever it takes to make my health & weight loss efforts a priority in my life. For the first time in YEARS, I actually lost weight over the holidays. GO ME!
So, that's me in a nutshell. I'm looking forward to be part of the Shrinking Jeans writing team. I'll be posting on this blog from time to time, especially when we're doing challenges and such. In addition to blogging here, I also blog about my weight loss journey here and about my stitching hobby here. You can also find me on Facebook and follow me on Twitter.
Ok, if you've made it all the way to the end of this post, kudos! I promise I won't write novellas in the future. LOL
Until next time …
Mel