September 3, 2009 By Christy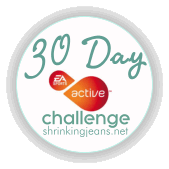 Can I just tell you how much I love the EAS 30-Day Challenge? Seriously. I hate monotony when it comes to workouts. The same old same old just gets me down, so having a different workout each day makes me look forward to working out. Crazy, I know
I enjoyed having yesterday as a rest day because my legs and butt were so very sore from all the lunging and squatting and inline skating. Ouch. My body needed the break. This morning, I headed out on my errand and grocery shopping trip. First stop was the car wash where dropped my truck off for a wash and wax. The guy told me it would be about 45 minutes, and that I could wait in the lounge and they'd call me when it was ready. I paid and walked right through the lounge and out the door. Sure, I could have sat on my butt on the cozy couch watching the Price is Right and drinking burned coffee, but instead I strapped my daughter to my chest and we took a brisk 35 minute walk.
After the truck was done, I hit the grocery store where I walked, although at a much more leisurely pace, for another hour. Upon arriving home, I put my daughter down for her nap, put away the perishable stuff, and cranked up the Wii. I hit my workout right away so I wouldn't make excuses to put it off, and I'm so glad!!
I'm continuing with the High Intensity workouts. I feel like I'm really pushing myself, and I definitely feel the burn. I enjoyed all the upper body workouts, although I think it was a bit too repetitive. I think they could have switched it up a little more, and I would have liked a little more cardio. The side-to-side jumps were fun! Then the dreaded inline skating again. Ouch. I can really feel the burn on those. I felt a little dorky and uncoordinated on the cardio dance portion, but hey, no one was watching
I'm also feeling a noticeable boost in my energy levels, which is so welcome. Since I got my new laptop, I've reverted to my old habit of staying up a little later than I should, so the energy boost I get from the workout keeps me going!