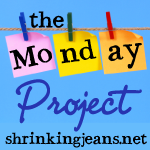 I have been thinking about this project all week! So, who is she? Who is your kickass superhero alter-ego? What does she do? How do you channel her? When does she come out? When do you wish she came out?
More importantly: does she wear a cape?
Mine does. Mine totally does.
And just to clarify, this superhero could be someone you already are or someone you want to be, either one. And by saying you want to be like her, it's like giving yourself a license to be her, FYI. Once you have identified your superhero, you must go into the phone booth and unleash your cape.
I'm just sayin.
We can't wait to meet them! Go ahead, introduce us!  Then join us here on Monday for a new project! (These are fun and you get a whole week to work on it!)
Category: Christie O., The Monday Project, The Sisterhood