So, um, yeah, Happy Hour is a little late tonight.  Well, I know it must be happy hour somewhere in the world.
It's Tuesday, the second day of our incredible Team Shrinking Jeans Bash to benefit the Leukemia and Lymphoma Society. Have you checked out all the fabulous door prizes we're giving away? No? GO RIGHT NOW (but please, do come back!).
And now, let m share the "happy" with you, all of my internet peeps, my friends, my sisters.  You are going to thank me for this recipe (or not, depending on how you look at it).
I have made this dip twice and both times, it was inhaled by my guests.  QUICKLY.  Like, gone before the introduction commerical to our show of choice it wasn't The Bachelor, I promise but then I would be lying because yes, this was during The Bachelor viewing parties I have with my girlfriends on Monday nights.
OK, maybe it took a little longer than that, BUT we all agreed that this dip was our new "go to" dip for social functions. It is so creamy and delicious and your guests would never know that it is a "light" recipe. I cannot wait to make it again, although I will probably make an entire batch just for myself next time!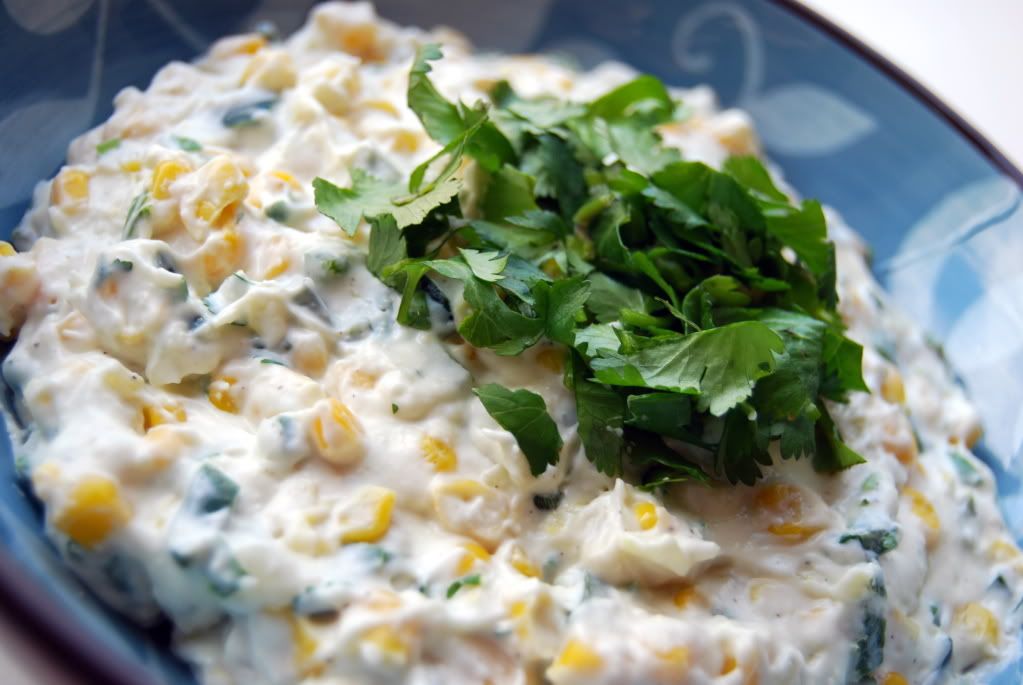 Sweet Corn and Poblano Dip
(From Weight Watchers 20 Minute Recipes)
Ingredients:
Cooking spray
1 medium poblano chile, chopped (about 1/2 cup)
1/4 cup frozen chopped onion (I used fresh onion)
2 garlic cloves, minced
1 1/4 cups frozen baby yellow and white corn (I couldn't find this at my grocery store so I used frozen yellow sweet corn)
1/2 (8 oz) package 1/2-less-fat cream cheese
1/4 cup light mayonnaise
1/4 cup light sour cream
3 tablespoons grated fresh Parmesan cheese
2 tablespoons chopped fresh cilantro
1/8 teaspoon freshly ground black pepper
Fresh cilantro (optional)
Directions:
Heat a large nonstick skillet over medium heat.  Coat pan with cooking spray.  add chile, onion, and garlic; cook 5 minutes or just until chile begins to brown, stirring often.  Add corn; cook 2 minutes or until corn is hot.  Remove pan from heat.
While vegetables cook, place cream cheese in a medium bowl; bat at medium speed with an electric mixer until smooth.  Add mayonnaise and next 4 ingredients, beating until smooth.
Add warm vegetables to cream cheese mixture; stir well.  Garnish with fresh cilantro, if desired.  Serve immediately with baked tortilla scoops, carrot sticks, or celery sticks.
Yield: 16 servings (serving size: 2 tablespoons) ; 1 pt per serving
Nutritional Facts (per serving): Cal 54; Fat 3.7 g; Pro 1.7 g; Fib 0.4 g