*See the winner below in comments!

You may or may not have heard me on Twitter professing my love for Pirate Brands Pirate's Booty in the last few months. Seriously. I love the stuff. So does my husband, my kids, and even my dog! There are a few flavors I don't care for all that much, but others that are to die for (ahem, Veggie… how I wish there was a store near me that sold it).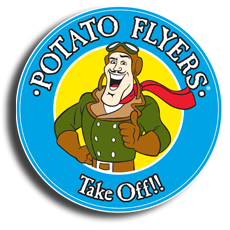 Enter the Potato Flyers… all-natural, gluten-free, baked potato chips from Pirate Brands. They are available in four different flavors: Original, Sour Cream & Onion, Homestyle Barbeque and Sea Salt & Vinegar. The original and Sour Cream & Onion receive the enthusiastic LissaJoy Two-Thumbs-Up!! YUM! I could definitely be okay reaching for these delicious varieties instead of potato chips! The other two? I am pretty much NOT a fan of anything that says Barbeque and/or Vinegar in the title, sorry! They were consumed by someone in my household, though!
Each 1.5 oz bag contains 120 calories and 5 grams of fat per serving, but don't be fooled… each bag contains 1.5 servings! And really, who doesn't eat the whole bag? Christy and I both agree that the snacks should be marketed in 1-serving bags instead of the current 1.5 servings.
Speaking of Christy, here is what she had to say on the Potato Flyers:  WE LOVE THEM!! My kids were sneaking them in the kitchen, and I caught Mia (her daughter) chewing a hole in the bag to try and get them opened. My favorite was the Salt & Vinegar, and the kids loved the Sour Cream & Onion flavor.
We want YOU to be able to decide for yourself whether you love them, too! We are giving away a Potato Flyer variety pack to one lucky reader! To enter, leave a comment telling us your favorite pirate or pirate saying. If you don't speak Pirate, just tell us something funny, m'kay? After you have done this, you may tweet about this giveaway up to once per day for an extra entry! This contest will end on Thursday, August 12th at 11:59 pm Central time. A winner will be randomly selected and announced the following day. Good luck!
Pirate Brands proveided us with snacks for review, as well as give away. No money was exchanged and the reviews are our own, as always, yo.
Follow us on Twitter
Subscribe to receive Updates
Want to discuss this article? Meet us at the Hood!