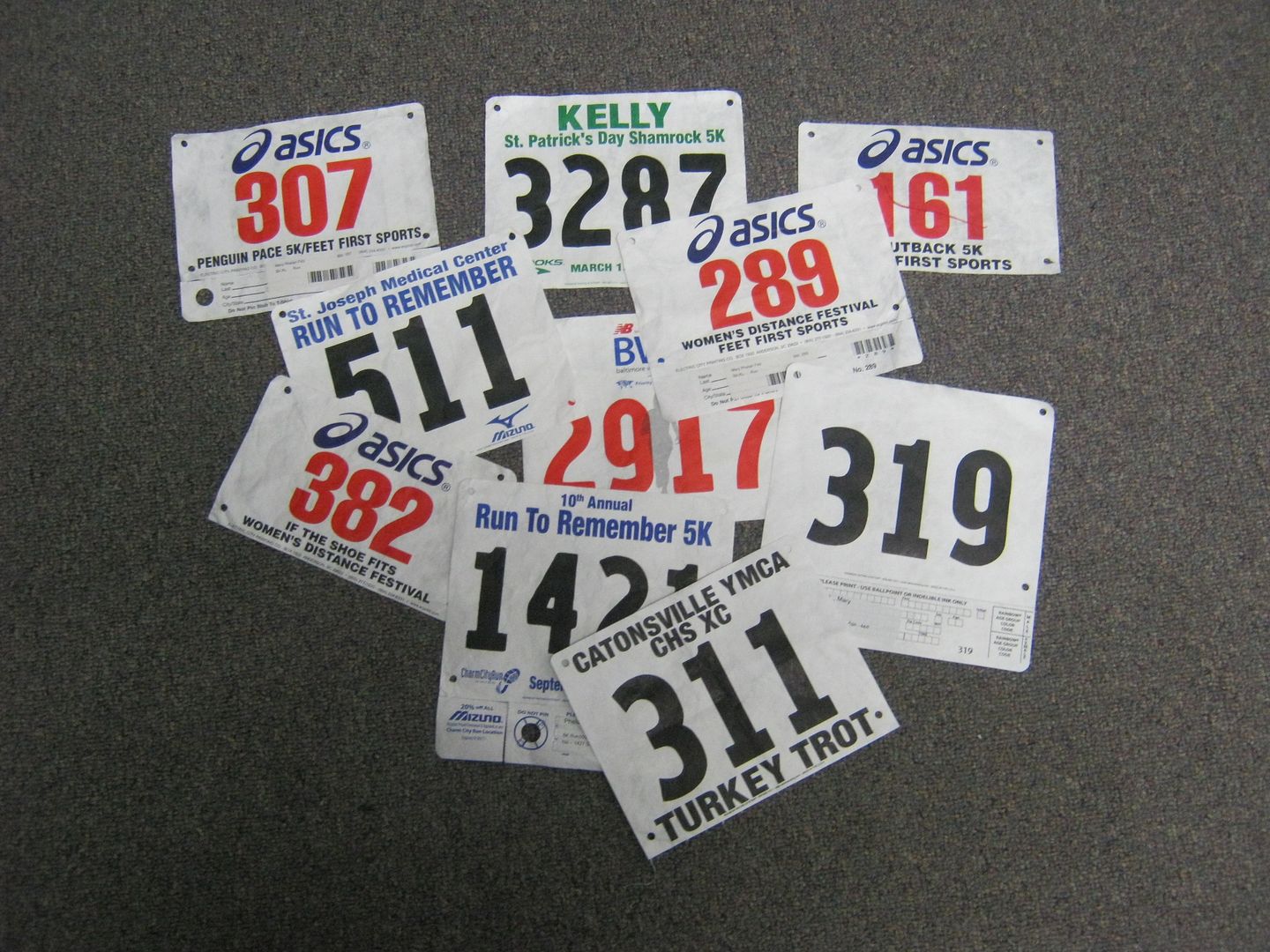 Hello everyone and a Happy New Year – still! I hope you are all still focused on your goals for the year ahead. What is it YOU want to do? Set your sights and get after it! I am delighted to have been given this chance to write a guest post for The Sisterhood about what it's like to reach a goal. In 2011, I started the year off with a mission to do one 5k per month for the entire year. At the time, I was an avid walker who wanted to give running a try. Guess what? Mission accomplished! Please indulge me as I take a look back at 2011 and my Operation 12 Races.
| | |
| --- | --- |
| RACE | TIME |
| DIY on the treadmill 1/22/11 | 44:53 |
| Penguin Pace 5k 2/6/11 | 47:18 |
| Kelly St. Patrick's Day Shamrock 5k 3/13/11 | 43:58 |
| 5K for the YMCA by Outback 4/8/11 | 43:54 |
| Rotary Club Remembrance Run 5k 5/30/11 | 48:51 |
| Baltimore Women's Classic 5k 6/26/11 | 46:16 |
| Women's Distance Festival 5k (Columbia) 7/10/11 | 45:04 |
| Women's Distance Festival 5k (Frederick) 8/13/11 | 45:10 |
| Run to Remember 5k  9/11/11 | 45:43 |
| Run the 'Hood 5k 10/22/11 | 43:01 |
| Catonsville YMCA Turkey Trot 11/24/11 | 28:55 *missed a whole mile on a confusing course! |
| The DIY December 5k 12/31/11 | 45:00 |
As you can see, my finishing times were all over the place (let's not even talk about that Turkey Trot!) . Starting off the year, my goal was to get a race done under 45 minutes. Sometimes I hit it, sometimes I didn't. That didn't bother me at all. What was important to me was that I got out there each month to meet my goal.  I am still as slow as all get out. In fact, it was not until the very last race – one that friends and I made up ourselves to be sure to get in a December race, they are hard to find – that I did the whole thing without any walk breaks. Now my goal is to do that in a real race situation and my goal is also to have a '3' at the beginning of my finishing time, even if it's 39:99. During this time of trying to become a runner, I dabbled in C25k a few times in the past few years. Usually, when I'd reach Week 5 – 20 minutes of straight running – I would flake out and talk myself out of continuing due to any number of excuses. What I found that really helped me to progress was joining a running club. It meant meeting with a group of people – most of them beginner runners just like me – once a week, with a running coach.  She would email a schedule of workouts we were to do during the week. I call this my RCH (Running Club Homework) and I was hell bent on sticking to it. I didn't want to be the one always falling behind when the group would meet up week to week. I would greet everyone with a "Did you all do your homework?" and most would grunt and say no but I was the brownnoser lol. Really, I did the homework just so I know I would be able to keep up with the rest of them, not in any effort to 'look good'. I joined the group in the fall and am proud to say I have continued on with the winter session. We met this morning in fact, in 28 degrees! I am up to running about 35 minutes without stopping. Slowwwwwwwwwwwwwwwww but still running. If you want to give running a try, I encourage you to check around to see if there is a running club nearby, or create your own!  Chances are your local running store has a group or knows where you can find one. So, what did I learn during this year-long journey of my Operation 12 Races?
I can set a goal and achieve it.
An avid walker CAN become a runner.
I can be somewhat of a race snob (if the event does not start on time, you don't want to be near me. Talk about cranky!)
Taking time for me is not selfish. There were times when trying to squeeze a race into a very busy weekend caused things at home to become a bit tense shall we say hectic and caused a conflict or two but I decided early on to be 'selfish' about this.
I can wear technical T-shirt with the dry wicking mumbo jumbo. In the beginning, I could not stand them – give me the old school cotton please and thank you! The new fangled material reminded me too much of the ballet leotards I would cut to shreds w/ scissors as a child. But eventually I grew to like these T-shirts and the coolness they provide while I am sweating my heart out.
Finish strong. No matter how tired you may be from the race, when you see that finish line in sight. Go for it. Hard. Harder than you think you have it in you to do.  As crazy as it sounds, that is often my favorite part of the whole race. I feel fierce when I am sprinting across the finish, no matter how slow I was at mile 1-mile 3!  At this race to the right, the announcer called my name "Mary from Baltimore. Here comes a strong runner. Give her a hand" and I am so glad I had those sunglasses on because hearing that had me all choked up!
Plan ahead and get your races on the calendar. You don't want to be scrambling to find a race at the last minute or having to consider driving within a 3 state radius to cross your monthly race off the list.
Treat yourself to something special: After several races I bought myself a bouquet of flowers from the grocery store or farmers market. It's nice to do something special for yourself as a reward.
The more the merrier. See if a friend or two would like to join you. Set the example for health and determination.
The power of podcasts. There are a lot of great running podcasts out there – including several versions of the C25k. I liked this one by NHS Choices and also Suz's C25K podcasts,  Pod Runner Interval's First Day to 5k podcasts,  and the 5K101 series by Running Mate Media. I also am a huge fan of MotionTraxx, which has a ton of running workouts all pre-loaded for you and ready to go. And at RunningPodcasts.org you can find links to all sorts of running-related podcasts, suitable for all levels, from newbies to hard core marathoners.
I have a year's worth of race pics of me in my spiffy new shirts and some of the sights I saw along the way on my blog, here.
Thanks for letting me share this journey with you!
Thirty-nine year-old wife and mom to BJ (11) and Mia (7). I'm the editor at the Sisterhood, and I really love to run (really), read, cook amazing things, and photography is my fledging passion. My motivation is motivating other people to realize they can do this whole weight-loss and exercise thing. I'm living proof!