April 19, 2011 By lisa
I want to participate in True Confessions this week because I have lots of good things to confess.
First, I ran my third half marathon this weekend and I shaved 5 minutes off my last half marathon time- woot woot!  Even better than that though, I got to run it with my BFF Christy (yeah, this Christy of Shrinking Jeans) and we had the BEST time talking, laughing, bitching about the hills, motivating, and pushing one another.  I am fairly certain she could have run faster on her own, but she says *nahhhh*.  Regardless, the race was exhilarating and awesome at all the same time.  Official race report here.
In addition, our very own Ann joined us for the 5K portion of the race.  It was my first  time to meet her face to face.  I had the extreme pleasure of getting to hang out with her this weekend.  It was so awesome putting an actual face/voice/physical being to the words behind the computer screen.
So what's next race-wise for me?  I can't say exactly what will be my next race.  I would love to say that it will be a triathlon BUT there is still some uncertainty going on in my family life.  Decisions are being made and once those decisions are made, we can move forward to living life and settling down.  Decisions like- are we moving to South Austin or are we moving to San Antonio (related to husband's job/career).  We are living with my MIL right now and I feel like our life has been put on hold, all pending this BIG move/job decision. 
For now, I continue to wait patiently….. and run.
November 17, 2010 By lisa
Good afternoon!
Today is the start of our newest challenge, the Holiday Hoedown!
Did you see my new profile/bio picture?  This is about as "hoe-down" as you will ever see me- HA!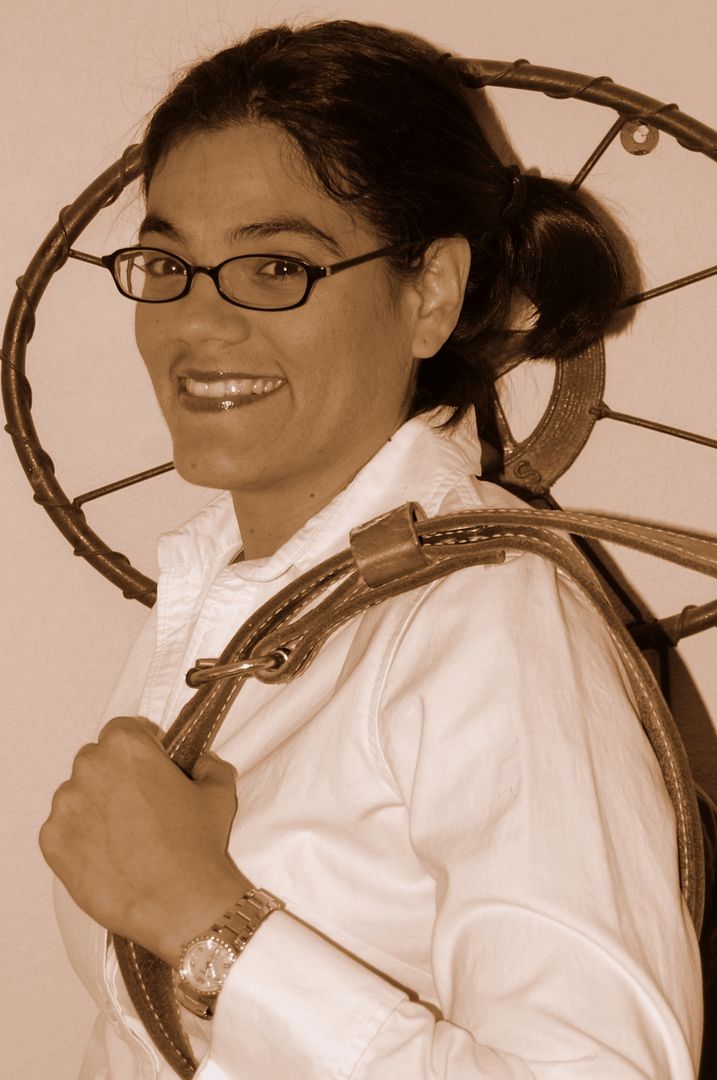 I would like to introduce you to my awesome team- The Healthy Holiday Ho's– and my most fantastic team members:  Bari, Kirsten, Tiffany, Beki, Thea, Jamee, and Elaine. 
While a few of our group are at goal or very close to goal weight, a few of us still have a few pounds left to lose (like me!).  However, the focus for our group during this challenge will be to maintain our health, be fit, not gain any holiday weight, and push each other physically.  Most of us are runners (yippee!) and I know I will enjoy the camaraderie of this group, as these women are some of my favorite Sisters.
Personally, I want at the very least to maintain my current weight and hopefully, get into the 150′s permanently.  This shouldn't be that hard to do since I am sitting at 161.8, but the holiday season is upon us and that means parties, eating and drinking more the norm. 
But not for me!
Starting weight when I began "Shrinking" (Jan 2009): 188 lbs
Starting weight for this challenge (November 2010):  161.8
Goal to lose: 4 lbs
Oh yeah, did you know that I ran a half marathon a few days ago?  Yeah, I am kind of proud of myself and have been tooting my own horn all week.  You can read all about it here.
Now, bring it on!!!!
June 30, 2010 By lisa
Let's skip the formalities and jump to what you're really here for, MY WEIGHT!
Last week's weight:  175.4 lbs (ugh)
This week's weight: 174 lbs (yippee)
A loss of 1.6 lbs
Happy dance, happy dance, happy dance!
Although I'll be a whole lot happier when I say good-bye to the 170′s (again)!  Last week was my first time to weigh-in in quite some time and I vowed to weigh-in every week this Summer.  I am also leading the mini-challenges which is keeping me accountable to actually DOING the mini-challenges-HA!  This week, I have been focusing hard on what I am eating, journaling it, getting in my fruits and veggies and drinking tons of water.  
I've returned to going to the gym, A LOT.  I went four times last week, just getting back in to the groove of exercising.  I took a Body Kombat class for the first time (a mix of kickboxing and martial arts) and I took a Spin class.  I lifted weights, I rode the stationary cycle and I walked on the treadmill. 
I have my eyes on training for the San Antonio Rock n Roll Half Marathon on November 14th and possibly even doing this event (a beach run) on August 14th, both with Christy. 
Another thing I cannot stop thinking about is doing a triathlon.  The one I did back in February during the Sisterhood Olympics opened my eyes to the fun of mixing it up- swimming, biking and running.  I spend my evenings scouring the want ads for a used bike (OMG- who knew bikes could be so expensive?  Plus the gear- ack!  If money grew on trees, then I would get this bike.).  I spend a lot of time reading triathlon books and checking out various races and different websites.  I am "this close" to attending an "Austin triathlon training group seminar" to see if I can hook up with a local group for training. 
Thinking about tri'ing gives me excited butterflies in my stomach.  Not nervous-ness, not anxiety, not "can I do this"……nope, I have excitement and butterflies because I already know I CAN DO THIS. 
Even though my time for the 1/2 marathon in San Diego with Team Shrinking Jeans was not what I wanted it to be and even though I did it with a bum hip, completing it gave me something I could not get anywhere else- BELIEF IN MYSELF.  I KNOW I will finish whatever races I sign up for, of that, I am 100% certain.  I added to "the bank" once I crossed that finish line and my mental game is even stronger now.
I'm all over the board today, huh? 
So yeah, Summer 2010 is going to kick ass for me, I just know it.
March 21, 2010 By lisa
With Team in Training, our group is given a "coach" to guide us through the training aspect of preparing for our half marathon.  Ours is Coach Joe and he is a super-fast runner and he knows what he is talking about.  At the beginning of our season, he gave each of our training plan.  The training plan tells you exactly what you need to be doing on what days of the week.
I love this- I don't have to think about what I should be doing or why I should be doing something or when I should be doing it.  I just look at the chart he gave us (it's four pages long) and I execute the training plan.  I like not having to make decisions like this, especially since I have ZERO experience with 1/2 marathon training and very little to no training on running. 
So yeah, I just do what he tells us to do and when he tells us to do it and trust that his plan will work, without really questioning why.
I am here to say that his plan (and I would even venture to say a lot of training plans) WORKS. 
Coach Joe told me that A+B+C = D and by golly he was right.
This past weekend, I ran 6 miles and I ran it faster than I did last weekend.  I have a new PR (personal record) and I am so freakin' proud of myself that I can't stand it.  I wrote about all the gory details over here, at the family blog.  A lot of ya'll already commented over there so please, don't feel like you have to tell me how great I am over here too : ).  Of course, if you are so inclined, then yeah, my ego would love some more strokin'- HA!!!!!
6.03 miles in 1 hr 3 min 3 sec with an average pace of 10:27/mile, my fastest time EVER.
One more thing, right around Mile 4, all I could think about was all the support and love I receive from you guys, my sisters, mis amigas.  I hit an endorphin high at that moment and I think that is what spurned me to continue my quick pace.
Thank you.
January 20, 2010 By lisa
I was so emotional over last week's weigh-in, because of the big gain I had.  This week, I am not emotional and just more relieved.
Last week's weigh-in:  171.5 lbs
This week's weigh-in: 169 lbs
Loss of 2.5 lbs
I worked hard this past week, exercising consistently, making "healthier" choices, drinking tons of water, and limiting my snacking at night.   I keep hearing over and over how stress can lead to a weight gain (OK, it's Jillian Michaels from the Biggest Loser TV show that keeps telling me that…..didn't you know!  Well, I didn't know but I think the lady trainer mega God is right).  I was in a funk last week but it has since passed, thank goodness.
I want to be at least 10-15 lbs lighter when I run the 1/2 marathon with Team Shrinking Jeans in June.  I just know my body will continue to thank me as I shed the pounds and have less weight to pound my knees and ankles as I run.  When I run, I imagine the two people I am running in memory of and let me just say, those thoughts only fuel me on.
I am very happy to be back in the 160′s and plan to stay here for a short while as I make my way to the 150′s.  I know what I need to do- now, I just have to keep doing it.  Couldn't this be true for a lot of us?  We know what we need to do, but we just have to do it.  That's the hard part though.  I say BRING IT ON.
Game on.